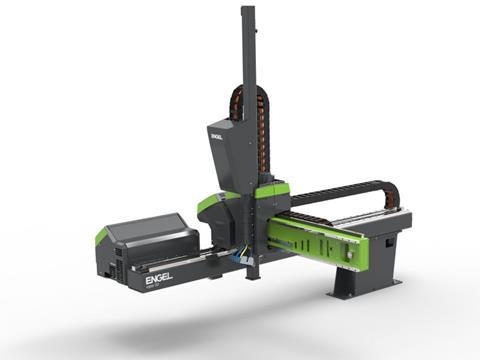 At Fakuma 2017, which takes place between October 17th and 21st in Friedrichshafen, ENGEL will present the new speed version of its viper 20 linear robot. The new viper 20 speed offers removal times of well under one second.
"The enhanced servo-electric drive technology and the reduced weight of the robot's axes are responsible for the new performance class," explains Walter Aumayr, head of the Automation and Peripherals division at ENGEL AUSTRIA.
Ideally suited to medical and packaging applications
In 2009, the producer of injection moulding machines and supplier of system solutions introduced the viper series of linear robots to the market. Right from the start, the robots set new standards in terms of performance and efficiency thanks to their innovative design features and intelligent software packages. With the new ENGEL viper 20 speed, ENGEL is now even better able to meet the requirements of the packaging and medical sectors in the area of small and medium-sized machines. "We have managed to increase dynamics by more than 30 percent compared to the traditional viper 20," says Aumayr.
With a removal time of well under 1 second, the viper 20 speed performs injection moulding processes with total cycle times of around 4 seconds. Typical applications are the production of food containers or sample cups for medical analysis, areas in which top-entry robots tend to offer very high flexibility.
By fully integrating the viper robots into the CC300 control unit of ENGEL injection moulding machines, setting of the linear robots can be performed very simply and quickly and monitored via the machine display along with the overall injection moulding process. Another advantage of a fully integrated control system is that the machine and robot use a shared database, enabling them to precisely coordinate their movements. This results in greater energy efficiency, shorter cycle times and faster set-up processes. Sales to start at Fakuma 2017 The new ENGEL viper 20 speed will demonstrate its impressive performance by handling cups at the Fakuma event. It will work in tandem with an ENGEL easix multi-axis robot that will take the cups from a moving conveyor belt and stack them.
ENGEL at Fakuma 2017: hall A5, stand 5204
More info: