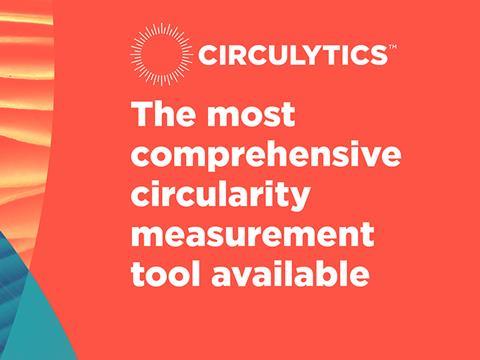 The Ellen MacArthur Foundation has launched Circulytics, a digital tool that businesses can use to measure their full circularity.
The foundation is planning to highlight companies that do exceptionally well in case studies and will generate anonymous cross-industry and within-industry benchmarks. Further, depending on demand, the EMF says that participating companies will receive a report, circularity score, tailored insights, and commentary from the charity.
In terms of functionality, Circulytics will work with companies to gather data in seven key areas of business activity:
Strategy: have you placed circularity in the heart of your strategy?
People and Skills: have you employed the skills and people required to transition to a circular economy business model?
Systems, processes, and infrastructure: have you invested sufficiently to support the transition?
Innovation: are you developing new circular products, systems or services?
External engagement: are you promoting your circular economy initiatives and influencing others such as your clients and supply chain?
Inputs: are the materials and energy used in your business processes supporting a circular economy?
Outputs: are the products and services you produce supporting a circular economy?
According to the charity, its new product has the potential to benefit businesses in three ways. Firstly, it argues that the tool can allow companies to fully realise opportunities to generate revenue, design out waste, keep materials and products in use, and generate environmental benefits. Secondly, the tool reportedly provides tracking of company progress against key measures. Lastly, the EMF says that Circulytics delivers clarity about circular economy performance, which can, in turn, develop brand value with key stakeholders.
At yesterday's (Jan 14th) product launch event, Andrew Morlet, CEO of the Ellen MacArthur Foundation spoke of the need for "accurate data and clear analysis", a sentiment echoed by attending figures from across the value chain.
According to Stefano Rossi, CEO of DS Smith Packaging Division: "Circulytics helps to improve the performance of our company and also the performance of our customers."
The tool has reportedly already been tested by a group of more than 30 companies from the Ellen MacArthur Foundation's network, including BASF, Brambles (and the subsidiary CHEP), Connected Energy, DS Smith, Enel, Essity, Granta Design, Hera Group (and the subsidiary Hera Luce), Ingka/IKEA, Lucart, Novo Nordisk, The Renewal Workshop, Royal BAM Group, Solvay, Sulapak, Tarkett, Teleplan, and Unilever.
More information on Circulytics can be found on the Ellen MacArthur Foundation's website.