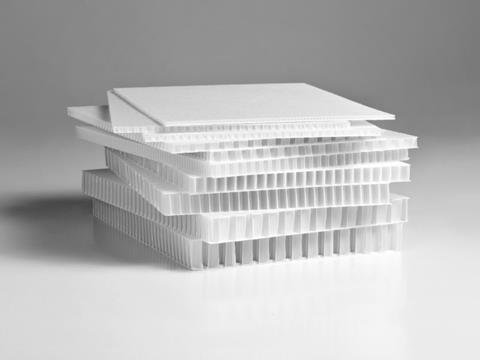 EconCore is extending the capabilities of its innovative ThermHex technology for production of high-performance lightweight thermoplastic honeycomb core materials and sandwich panels.
The company, which already licenses the technology for production of polypropylene honeycombs, is now able to produce honeycombs from high performance thermoplastics (HPT). A further development enables the integrated production of Organosandwich preforms with continuous fibre-reinforced skins.
"We have already successfully produced and tested honeycombs from several high-performance thermoplastics at our refurbished R&D facilities in Leuven, Belgium" says Tomasz Czarnecki, Chief Operating Officer at EconCore. "We have been working with various types of modified Polycarbonate (PC), Polyamide 6.6 (PA6.6) and Polyphenylene sulphide (PPS) and we are continuing to pursue developments with these and other high-end polymers. We are now entering the final phase of product validation and we expect to work on several application developments in automotive, aerospace, transportation, and building and construction markets this year."
EconCore's patented technology uses a series of in-line, high-speed, operations to produce honeycomb structures from a single continuously extruded thermoplastic film. It involves a sequence of thermoforming, folding and bonding operations. ThermHex technology has the potential to work with a wide range of thermoplastic polymers to create honeycombs, whose cell size, density and thickness can be altered with simple hardware and/or process parameter adjustments. The process makes it possible to create extremely cost-effective finished composite sandwich materials by inline bonding of skins to the honeycomb.
"Today we offer honeycombs with the best performance per cost on the market. In the near future we will offer also honeycombs with the best performance per weight" adds Jochen Pflug, Chief Executive Officer at EconCore.
Thermoplastic honeycomb cores for composites provide a ratio of performance to weight that is very difficult, if not impossible, to achieve with other types of core materials. ThermHex cores are around 80% lighter than solid thermoplastic cores in use today, in such products as metal skinned- panels for transportation and building applications. The lightweight cores also have positive implications for product handling, raw material inventory, outbound logistics and installation.
In use, honeycomb structures prove superior not only in terms of mechanical performance: the acoustic performance and thermal insulation of honeycomb structures is also beneficial for many applications.
HPT honeycombs will build on the intrinsic benefits of lightweight honeycomb structures, with higher heat resistance (useful for such products as housings for electric vehicle batteries) and very good flame resistance (critical for building panels). EconCore is also working with materials modified for FST (flame, smoke, toxicity) compliance in railway and aerospace applications. The company also sees substantial potential in photovoltaic (PV) panels and numerous other products.EconCore has already demonstrated the potential for the use of Polycarbonate honeycombs in next-generation aircraft interior modules. These were developed in an EU-sponsored project involving aerospace company Diehl Aircabin. Polyamide honeycomb technology has also been demonstrated in ultralight PV panels co-developed with panel maker Armageddon Energy and DuPont.
EconCore is also readying a variant of the ThermHex technology for production of what it calls Organosandwich materials. These are thermoplastic sandwich composite materials, again produced inline, which comprise a thermoplastic honeycomb core thermally bonded between thermoplastic composite skins reinforced with continuous glass fibres. In contrast to conventional organosheets, an Organosandwich offers outstanding ratio of stiffness to weight and can be converted into final parts using such quick and efficient processes as compression moulding and injection moulding. Compared to more conventional composite and metal-based solutions, these products offer superior light-weighting potential and important cost benefits combined with an extremely fast processing for the creation of complex functionalized parts.
The Organosandwich materials are ideal for applications requiring light and cost-effective material solutions combined with high stiffness, for instance in many structural automotive components and markets with similar requirements.
"All sorts of markets can benefit from the advantages that new honeycomb cores and Organosandwich materials will offer in terms of weight reduction, cost reduction, improved performance and design flexibility," says Czarnecki. "These products can be produced and converted quickly and efficiently in processes that are highly automated. They are also highly recyclable, especially when core and skin are produced from the same thermoplastic polymer."
Meet the EconCore team at JEC on Stand R73 in Hall 6 from March 6-8, 2018.
More info: