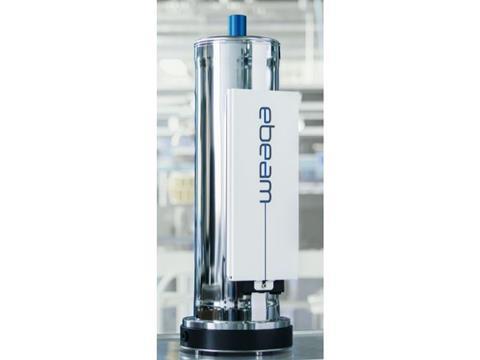 ebeam Technologies, the developer and manufacturer of electron beam (ebeam or EB) solutions and its partners, Uteco Converting and INX Digital International, will be at Label Expo in Hall 4, stand A25.
At the Brussels Expo, 25-28 September 2017, the partners will unveil the first industrial end-to-end digital narrow-web solution for the safe mass-personalization of indirect food contact flexible packaging and labels.
The new solution will enable print and converting professionals, and brand owners in the flexible packaging sector take advantage of the proven market opportunities around variable printing such as product personalization, short run market testing, print-on-demand or print-per-event and local area snap promotions. Because the INX Digital ebeam curable inks are photoinitiator-free, package converters will now be able to target consumers with indirect personalized food packaging.
In-line ebeam curing has a number of important benefits for package printing including a higher degree of cure, durability, a higher gloss finish and the ability to cure all colours. It eliminates the need for solvents, produces virtually no VOCs and requires very little energy. The solution also reduces time to market thanks to the instant ebeam curing, which allows for the elimination of a lengthy drying stage and storage before cutting.
The new digital production line has been created through combining Uteco's expertise in web handling, INX Digital's expertise in the customization and integration of digital technologies and print engines, and an in-line ebeam Technologies' ebeam Compact 80/400 curing unit. The 4-colour solution uses recently developed photoinitiator-free inkjet ebeam-curable inks from INX Digital, has a resolution up to 720 x 360 dpi, a throughput speed of up to 25 metres/minute. With a footprint of only 4.4 x 1.5 metres, it is a low energy/low pollution solution that will safely and conveniently fit into print room environments.
"We are very pleased to be presenting our new solution at Label Expo. In addition to the innovation involved in the creation of this production line, the business model is also new in the digital printing market because, with us, the customer is free to choose their suppliers and there is no click-charge," said Mario Gazzani, head of the Uteco digital division.
"This solution is all about freedom," says Elsa Callini, Business Development Manager at ebeam Technologies. "From choosing your supplier to producing as many different packages as you like with compliant digital packaging, package designers are now free to let their imaginations go in the world of personalization and variable printing. Personalization is going to be a great way for brand owners to differentiate their products and they will be able to use our solution to test their ideas with economic short runs."
More info: