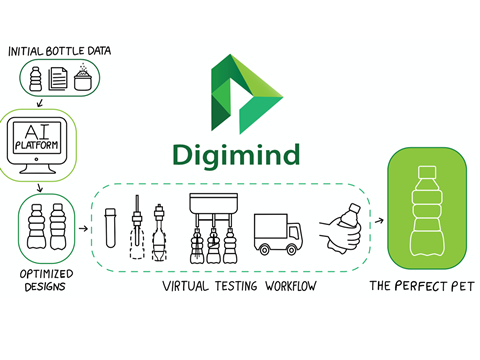 Digimind is a DeepTech startup that is building the 'first AI platform focused on packaging' that strives to help brand owners design and manufacture safe, sustainable and cost-effective plastic packaging. We spoke to CEO Katharina Eissing to find out about this platform and more generally how AI can benefit the packaging industry.
PE: Could you explain the background and unique features of the Digimind AI platform for packaging? What makes this a 'first of its kind'?
KE: In our previous life as software engineers and problem solvers for the packaging industry, we quickly observed that it's one of the largest industries and yet it is not yet benefiting fully from digital engineering capabilities like the automotive or aerospace sectors. Therefore, we have been working for more than a year on developing a vision, and engineering solutions for the industry. These include:
1. The first cloud-based seamlessly integrated platform providing the packaging industry with an end-to-end tool for design, engineering, virtual testing and collaboration.
2. AI-powered instantaneous design advisor helping designers achieve sustainable, cost effective designs without compromising safety.
3. AI-powered lightweighting tool helping customers reduce weight and explore more sustainable designs
4. Based on the customer's LCA, a virtual testing environment is provided based on digital twin technology
5. SaaS platform: we believe that collaboration with innovative ecosystems is key to transforming the industry.
These features combined are engineered to provide packaging engineers with the 21st century tool to develop faster, cheaper, safer and yet more sustainable products.
PE: Are you focused solely on plastics, or can your solution also be applied to packaging made from other materials?
KE: The underlying capabilities can be applied to other fields. We have performed multiple engineering projects with carton, aluminium and even MDF packaging companies where we have helped them re-engineer smarter packaging. However, we are now laser-focused on the plastic packaging industry.
PE: How do you work with clients to optimize their packaging processes? Can you give me any examples / case studies of this solution in action within the packaging industry?
KE: We have worked with one of the largest edible oil companies in the world to reduce the weight of their containers. We have leveraged our capabilities to scan their portfolio. In a specific case of a 1.5L PET bottle that was produced at almost 1 billion per year we were able to reduce the weight by 13.7% without affecting the performance as per spec. Obviously we are facing some challenges such as the lack of digital 3D files but we are capable of overcoming these challenges and we are investing in new solutions to create faster 3D models for our customers when they don't have it.
PE: More generally, for those of our readers unfamiliar with the subject, why does AI have such huge potential when it comes to tackling the packaging industry's sustainability challenges?
KE: After talking to many packaging engineers we are convinced that they have one of the hardest jobs out there in the industry. They have to continuously iterate designs and try to hit a sweet spot for cost effective, sustainable and safe packages. This is a very complex task requiring a large number of different very expensive software products not communicating seamlessly together and requiring immense iteration time.
We want to disrupt this by : a) bringing the workflow to one integrated simple and friendly platform; and b) using AI to provide real time predictive capabilities on the changes designers are making compared to the huge amount of hours they need today to check on design. We are taking the iteration time from hours to seconds thanks to advanced machine learning capabilities.