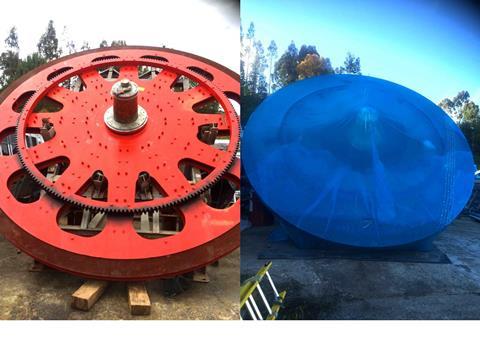 Cortec's innovative VpCI® packaging suite offers the flexibility of many shapes, sizes, and formats to suit specific needs. For those shipping sensitive electronic components, Cortec's EcoSonic® ESD Paper powered by Nano VpCI® provides both corrosion and electrostatic discharge protection. When extra moisture protection is the concern, EcoShield® VpCI®-144 Super Barrier Paper serves as a recyclable alternative to polyethylene and waxed papers.
For automobile manufacturers, one-inch-square (6.45 cm2) VpCI®-143 paper emitters provide a convenient way to insert corrosion protection into the tiny corners of automobile components. Protection for musical instrument strings can even be devised by converting standard VpCI®-144 paper into small envelopes.
Other flexible packaging options include Cortec's bestselling VpCI®-126 film, convertible into multiple sizes and shapes: from small zip-lock bags for small parts, to large shrouds that fit expensive medical diagnostic equipment. Cortec® even offers Eco-Corr Film®, a biodegradable corrosion inhibiting film that can be made with ESD properties.
Other VpCI® foams, emitters, and desiccant combinations add extra protection to the packaging suite as needed.This variety of packaging options demonstrates Cortec's attention to meeting specific customer needs. Zhang notes, "What most of [our] customers liked is that Cortec® is customer focused and solution oriented rather than [focused on] selling products. Each customer is different and each challenge a customer is facing for corrosion control and prevention varies. Cortec® and its distributors take the time to understand customer requirement and expectation, and come up with effective solutions each time and every time. The best solution might include existing products or specifically developed products for the particular customer and application. Cortec® maintains its ability with the help of its in-house R&D, ISO Certified Lab, and vertically integrated manufacturing."
Cortec's versatile VpCI® packaging options are safe and easy to use, cutting down labor and disposal costs and providing effective protection for valuable parts in multiple industries. By offering these innovative packaging solutions, Cortec® has had an unseen hand in protecting many consumer good components from corrosion and will continue to silently fill a critical need in the packaging industry.
More info: