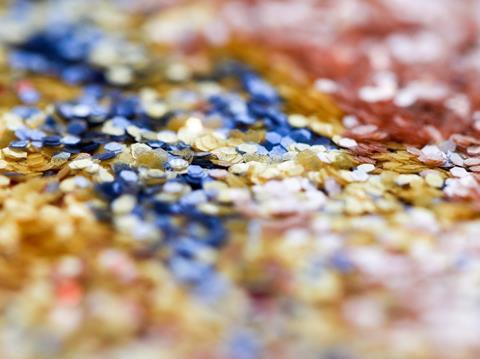 Ronald Britton Ltd has officially launched a new glitter which is completely plastic free.
Cosmetic Bioglitter® PURE, is based on natural materials, is biodegradable and is designed to decompose in the natural environment.
Developed by manufacturers Ronald Britton Ltd, the new Bioglitter® has been created for the cosmetic sector, but is robust enough to be used in coating, printing and decorative applications.
The company claims it it is the first glitter to be verified microplastic free by the EU and officially certified OK Biodegradable WATER by TÜV.
Stephen Cotton, commercial director of Ronald Britton says: "Cosmetic Bioglitter® PURE is completely unique in the market, it is the first glitter of its kind in the world to use natural materials and no plastic.
"The issue of plastic waste and microplastics is something we've been working towards tackling in glitter for the best part of a decade. Our first step on the Bioglitter® journey was the launch of our original Bioglitter® product back in 2014, followed with Deco Bioglitter® SPARKLE, a technical grade for coating and print applications, last year.
"Deco Bioglitter® SPARKLE was designed for the coatings market and remains our brightest Bioglitter® product. It has also been independently tested to prove that biodegradation is high in the natural environment. Cosmetic Bioglitter® PURE takes that one step further and offers the market a new glitter effect that is completely plastic free."
The product passes all current and future microbead and microplastic legislation and is certified biodegradable in natural freshwater environments.
Stephen added: "It's no exaggeration to say this is a huge change for the industry, setting a new microplastic free glitter standard. Cosmetic Bioglitter® PURE truly is a Guilt Free Glitter, designed to offer a sparkly effect, but not at a cost to the environment."