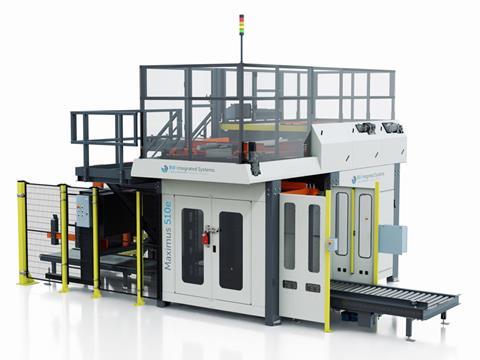 Packaging solutions provider BW Integrated Systems has announced the Maximus Mid-Speed Case Palletizer, which it says meets the increased market demand for a flexible, high-level palletizer with a compact footprint.
The company says the new machine includes versatile product handling, a simple-to-maintain design, and a split-for-ship feature.
Eric Collier, executive vice president of global commercial operations for BW Integrated Systems, says: "We're excited about Maximus' potential to help customers get their equipment installed and running quickly.
"Its split-to-ship functionality reduces install and start-up time, allowing for a faster vertical start-up."
The Maximus Mid-Speed Case Palletizer also uses layer forming technology and features an interactive interface that allows operators to streamline data collection, according to the company.
Earl Wohlrab, director of product strategy and innovation for BW Integrated Systems, adds: "Many of the features we built into Maximus are a reflection of our conversations with customers.
"For example, we purposefully included an easy-to-use operator interface because we understood that it can be challenging to find and retain personnel who are qualified to operate this type of machinery.
"Similarly, we included an advanced pattern builder software to simplify for operators the tedious process of adding new SKUs and products."
After combining customer feedback with palletizing innovations from North America, BW says it included a 100% electrical machine option for the Maximus Mid-Speed Case Pelletizer.
According to Collier: "Maximus' 100% electric machine option is a game changer in the palletizing industry because, unlike other electric palletizers, which still use air in some sections, all operations for this option are 100% electric, generating significant cost savings on compressed air."
The Maximus Mid-Speed Case Palletizer will be on display at PACK EXPO 2021 in Las Vegas, USA, from September 27th to September 29th.