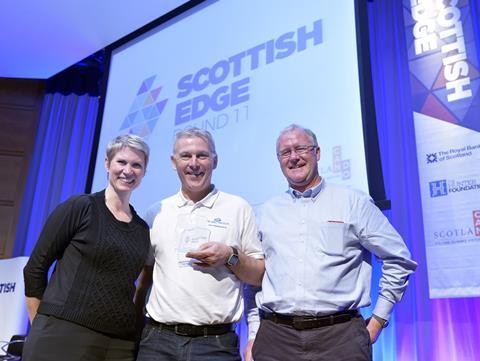 A Falkirk-based start-up business, BUBL Bag has won £25,000 and a business support package as part of Scottish EDGE - Scotland's leading business competition for innovative, high growth potential entrepreneurial talent.
Founded by Ross Woodburn, BUBL Bag is a protective packaging company which focuses on inflatable packaging products which provide maximum product protection cost effectively, and ideal for ecommerce distribution. BUBL Bag also sells unique packaging products which provide excellent product protection, are reusable, recyclable, and lighter than standard packaging.
Announcing the award on Thursday evening, Scottish EDGE CEO, Evelyn McDonald, said:
"Most of us here tonight will have experienced the situation of ordering a product online and having it delivered in a box that is far too big and impractical. Well worry no more, our Scottish Edge winner has the solution. BUBL Bag's innovative, inflatable, reusable packaging products offer a new way to distribute items safely and cost-effectively."
The business was one of 38 companies to receive funding of over £1m as part of the Scottish EDGE's eleventh competition round, which launched in July of this year. Scottish EDGE, which looks to support Scotland's innovative, high-growth potential entrepreneurial talent, received a total of 242 applications for the current competition round.
Having received his award, which was presented by Scottish EDGE judging panel member, Petra Wetzel of WEST Brewery, Ross Woodburn commented:
"The funds are going to be used to relaunch as BUBL Packaging and to launch two new products. This will extend the BUBL range of highly protective packaging to five products. We also aim to bring more European distributors on board in 2018 and invest in other areas of the business such as our marketing."
Renowned Scottish entrepreneur and philanthropist Sir Tom Hunter remarked on BUBL Bag's achievement; "I'm delighted that BUBL Bag has secured Scottish EDGE funding and support as part of the competition's eleventh round. Ross's passion and enthusiasm for his business impressed the panel and they could see great potential in his product. We welcome the business as it joins our network of high-profile Scottish EDGE alumni, and look forward to supporting their development."
Ross Woodburn continues: "Most existing packaging options are inadequate for ecommerce and the 21st century - better protective packaging is needed to ensure that goods arrive safely. So, we have developed highly-protective packaging for products that are fragile, valuable or simply important.
"BUBL Bag packaging is quick and easy to use. The BUBLs are inflated to wrap products in air cushions that adapt to different shapes and sizes. Our products can also be reused and recycled."
BUBL Bag's highly protective packaging products are already being used by companies like Euro Car Parts, Yard Direct (windows), Axial3D (medical devices) and Panasonic. You can see more on BUBL Bag on their website.
More info: