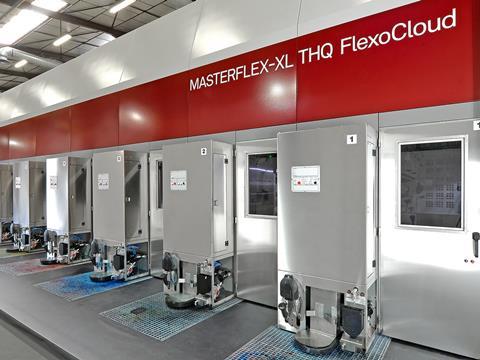 BOBST revealed its new THQ (Très Haute Qualité) FlexoCloud Technology at a Technical Seminar attended by some of the leading printers and converters from all over Europe, Middle East and the USA.
This technology – developed by Graphilabel, a specialist in graphic solutions for narrow web, security and anti-counterfeit solutions, and adapted by BOBST – is considered a quantum quality shift in post-print flexo.
THQ FlexoCloud Technology is the pride of BOBST Lyon: "This innovative technology enables amazing results," said Dominique Ravot, Sales & Marketing Director, Bobst Lyon. "For post-print flexo on corrugated board, it brings unmatched quality at lower cost in one pass. The feedback we received from the seminars has been overwhelmingly positive and supports our belief that the THQ FlexoCloud represents the opportunity for our customers to make the difference and increase their market share."
Serving growing needs by enhancing flexo quality and counterfeit protection
The seminar was a smart combination of in-depth technology presentations, interactive sessions as well as hands-on technology demonstrations. All along this seminar, customers discovered how they could serve a growing need for enhanced print quality and counterfeit protection and at the same time derive maximum value from their investment in BOBST flexo machines. There was a genuine interest in the THQ FlexoCloud Technology: 75% of attendees rated the new technology as very good or excellent.
BOBST THQ FlexoCloud is a very easy-to-use flexo solution for corrugated board. Indeed, there is no need for special skills and this technology requires only three key elements: THQ ceramic rolls (supplied by BOBST), THQ CMYK inks plus varnish for high graphic jobs (supplied by Siegwerk exclusively to THQ FlexoCloud customers) and THQ printing plates (supplied by Graphilabel) that are the core due to a unique colour separation algorithm. It is associated with ultra-high precision, a larger range with four colours and enables excellent anti-counterfeit security printing through invisible coded messages.
Discovering THQ benefits with live demos
To ensure its customers could see the benefits of THQ technology in person, BOBST ran live demonstrations on a MASTERFLEX-XL THQ FlexoCloud. These demonstrations proved to customers that this revolutionary technology enables them to reduce ink consumption as well as number of printing plates and thus easily operate at lower cost in one pass. They discovered how to print a larger range of liners and achieve a 65% gamut coverage with the four process colours only. Furthermore, print samples demonstrated the accuracy of print, be it in the repeatability of orders or ultra high quality of print.
BOBST THQ FlexoCloud Technology is available on a wide range of new BOBST post print flexo machines. Throughout the three weeks, customers were fascinated by the new BOBST THQ FlexoCloud and agreed that seeing the machine in action and discussing the technological advances it brings had made their visit worthwhile. For BOBST, the THQ FlexoCloud further demonstrates that the company is at the forefront of technical innovation.
More info: