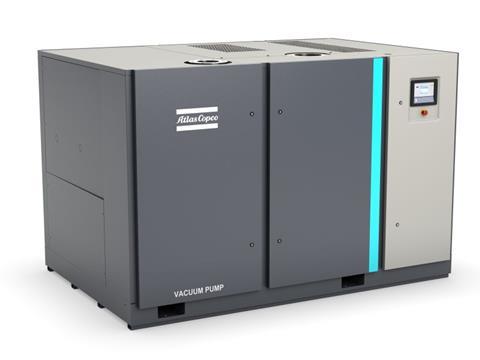 Atlas Copco is to exhibit its latest super-efficient air compressors and industrial vacuum pumps at The PPMA Show 2017, which takes place on 26-28 September at the NEC in Birmingham.
Visitors to stand F44 will have the opportunity to speak to the company's packaging specialists and learn about its recently introduced GHS VSD+ rotary screw and DZM multiple dry claw vacuum pump systems, as well as the GA VSD+ oil-injected compressor range, which offer industry leading energy savings and are suitable for use in a variety of packaging and processing applications. The company will also be exhibiting nitrogen and oxygen generators and high-pressure oil-free compressors for PET blow moulding operations.
Richard Oxley, Vacuum Product Manager at Atlas Copco commented, "Compressed air and vacuum are vital in numerous production processes within the packaging industry, from pneumatic conveying to thermoforming plastics and vacuum sealing meat and cheese products. With our latest vacuum pump systems and compressors, we're able to offer companies in these sectors a wide range of different options to suit their specific application needs, and help them reduce energy and operating costs in the process."
Atlas Copco has recently extended its GHS VSD+ range of variable speed driven oil-sealed rotary screw pumps with the addition of three new models offering flow rates up to 5004 m3/h. The new GHS 3800-5400 VSD+ rotary screw pumps are particularly suited for large industrial vacuum users in the UK's glass, plastics, canning and food packaging industries. Companies in these sectors stand to reduce their energy consumption by up to 50 per cent if they upgrade their existing centralised vacuum systems or switch from using multiple, decentralised point-of-use pumps to a central vacuum system based on one or two super-efficient GHS VSD+ machines.
The new pumps complement the existing GHS VSD+ range, launched in 2015, which incorporates state-of-the-art VSD technology and enables users to precisely adapt their vacuum generation requirements to match the demands of their process. Coupled with an innovative motor design and inlet control valve, the range has set new standards in terms of energy efficiency, noise levels and oil-retention in industrial vacuum pumps. Typical applications include lifting and handling, forming and shaping, vacuum packing, preservation, freeze drying, pick and place and pneumatic conveying.
Companies operating in dry working environments will be able to learn about the advantages of the recently launched DZM multiple vacuum pump system. Combining between two and four single-stage oil-free DZS claw vacuum pumps in a single compact housing, the new DZM system offers a high degree of performance and reliability. It is suitable for a wide variety of dry pumping applications – from packaging lines, pneumatic conveyors and clamping systems for CNC machines, to moulding machines and drying processes. Dry claw vacuum pumps use two claw-shaped rotors running in opposite directions which do not touch each other or the pump chamber. Despite the very tight clearances between the rotors and casing, there is no contact between these components and the pumps are therefore virtually free from wear.
Visitors seeking both a reliable source of compressed air and a reduction in their total cost of ownership are advised to drop by stand F44 and learn about the benefits of the GA VSD+ oil-injected compressor range. Specifically designed to help industrial air users reduce their energy consumption, GA VSD+ compressors are ideally suited for a range of processing applications in the packaging sector, ranging from operating diaphragm pumps for moving liquids to forming bottles and filling packaging. Delivering unsurpassed efficiency in a space-saving upright format, the compressors feature variable speed drive and a patented IP66, oil-cooled, iPM motor, which is IE4 certified to the highest levels of motor efficiency. This combines to provide average energy savings of 50 per cent compared with fixed-speed alternatives. Thanks in part to an innovative cooling fan, GA VSD+ compressors produce only 67 dB(A), one of the lowest noise levels in the industry; meaning they can be installed on the work floor rather than having to be housed in a separate room.
More info: