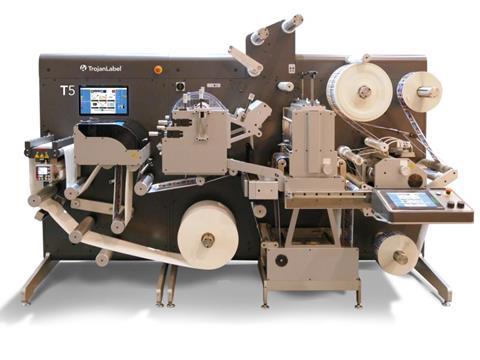 AstroNova has announced the launch of the TrojanLabel® T5, a larger version of the company's TrojanLabel T4 professional label press and finishing system with the addition of UV flexo varnish capabilities.
The T5, described as an all-in-one digital print and finish in-line labelling solution was demonstrated for the first time in September at Labelexpo Europe 2019 in Brussels, Belgium.
The TrojanLabel T5 is built on AstroNova's TrojanLabel T3 Digital Inkjet Label Press platform integrated with a smart, compact converter unit featuring UV flexo varnish, lamination, rotary die-cutting, slitting, and waste removal. Following the introduction of the T4 two years ago, the T5 is the company's latest high-production label printing and converting solution for the professional printing market. The T5 adds several additional enhancements such as spot and SUPERgloss varnish, lamination, slit & rewind, and cold foil application for silver, gold, and metallic decorative accents, in a single compact platform.
"The T5 is a great step up in our offerings, providing professional printers and large brand owners with a high-performance system that delivers great results from start to finish," said AstroNova President and CEO Greg Woods. "We are excited about the addition of this unique, versatile solution to our TrojanLabel family of professional digital color label presses and specialty printers."