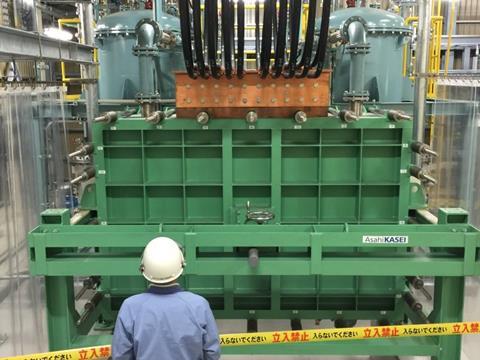 Asahi Kasei Europe is participating in the three-year multi-partner ALIGN-CCUS project to help transform six European industrial regions into economically robust, low-carbon centres by 2025.
Asahi Kasei's electrolyzer technology will be one of the cornerstones for CO2 reuse and therefore the reduction of CO2 emissions.
On November 7th, the ALIGN-CCUS Project Consortium announced the launch of the ALIGNCCUS (carbon capture, utilisation and storage) Project, a partnership project which runs from 2017 to 2020 and consists of 31 research institutes and industrial companies from five European countries. The project received €15 million funding from the European ERA-NET ACT (Accelerating CCS Technologies) fund and aims at transforming six European industrial regions into low-carbon centres. ACT is a European Union initiative to accelerate the deployment of safe and cost-effective carbon capture and storage (CCS) technologies. ACT receives funding support from the European Commission's Horizon 2020 instrument, the ERA NET Cofund.
Europe in general and especially Germany with its ambitious goals for CO2 reduction, its drop-out of nuclear energy by 2022 and its high share of electric power supply by renewable energy sources have a high need for reliable CCUS- and power storage technologies. Hydrogen has been in the centre of interest in the recent years, not only in the field of energy storage (Power-to-Gas) but also as an important component to produce fuel for automobiles (Power-to-Fuel).
Cooperation with industrial and academic leaders in the CCUS field Asahi Kasei with its leading technology for ion exchange membranes and chlor-alkali electrolysis has been chosen as partner for the ALIGN-CCUS Project and provides its alkaline water electrolysis system for the production of green hydrogen. Hydrogen produced with Asahi Kasei's alkaline water electrolysis system and CO2 captured at power plants will be transformed into fuels such as green methanol and green dimethyl ether (DME). This system can be scaled-up and has high energy exchange efficiency. With this technology Asahi Kasei contributes to a decrease in CO2 footprints in the fields of transportation and power generation.
Together with European partner institutions and companies, Asahi Kasei Europe as the operational headquarter of Asahi Kasei in Europe will be a member of Work Package 4 of the ALIGN-CCUS Project. Work Package 4 will focus on designing, constructing and operating a first-of-a-kind, fullchain CO2 capture and conversion project in an industrial environment. The applicability and environmental performance of CCU products, methanol and DME, will also be assessed along with potential market demand. Together with prominent partners such as RWE, Mitsubishi Hitachi Power Systems Europe, FEV, Bosch, DEUTZ, RWTH Aachen University, TNO and ECN, Asahi Kasei Europe will conduct a demonstration experiment in Germany.
"The ALIGN-CCUS project contributes to reducing CO2 emissions in the fields of transportation and power generation. We are very happy to participate in this project by using our alkaline water electrolysis system to produce green hydrogen. By further improving our technology we will be a leading company for the realization of a hydrogen society", Hideki Tsutsumi, Managing Director of Asahi Kasei Europe said.
More info: