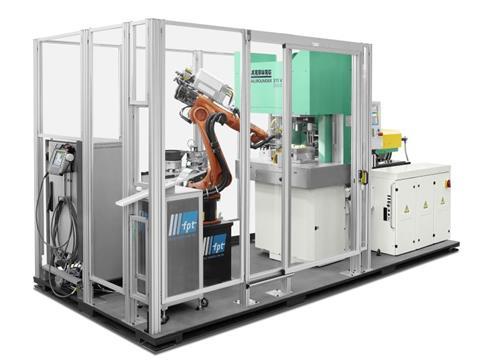 Plastimagen, one of the most important plastics trade fairs in Mexico and all Latin America, will be held in Mexico City from 7 to 10 November 2017. Arburg will be presenting its current high-end plastic technology on stand 730.
The focus will be on packaging and automation. On show for the first time in Mexico will be the fully-electric Golden Electric entry-level series, while other exhibits will include a high-performance hybrid machine specially designed for the packaging industry, as well as a turnkey system built around a vertical Allrounder with a six-axis robot.
"With our electric, hybrid and hydraulic exhibits, we'll be covering a broad range of machines and applications at the Plastimagen 2017. As an innovative machine manufacturer, we offer comprehensive solutions for currently trending topics such as Industry 4.0, automation and production efficiency, as well as excellent service and support," says Guillermo Fasterling, Managing Director of Arburg's Mexican subsidiary in Querétaro. "The Allrounder Golden Electric is of particular interest for the Mexican market, as it enables cost-effective entry into electric moulded part production. Moreover, we'll be showing a high-speed application for packaging articles at the Plastimagen 2017. And we'll be demonstrating our expertise in the turnkey sector with a fully automated injection moulding machine that produces ready-to-use toy buggies."
Cost-effective entry into electric moulded part productionArburg added the "Golden Electric" machine series with clamping forces from 600 to 2,000 kN to its range with the aim of facilitating cost-effective entry into electric moulded part production. Like their successful "Golden Edition" hydraulic counterparts, these electric machines offer an excellent price/performance ratio thanks to consistent standardisation, e.g. a fixed combination of distance between tie-bars, clamping force and injection unit size.An Allrounder 570 E Golden Electric with a clamping force of 2,000 kN will be used at the Plastimagen 2017 to demonstrate that these machines are also suitable for high-precision production in the packaging sector. The exhibition machine uses a hot-runner mould from Artis Matriz to produce 12 sports cap closures weighing 3.5 grams each in a cycle time of twelve seconds.
High-speed packaging applicationThe highest priorities for particularly fast, high-quality serial production in the packaging industry are precision and short cycle times. This is exactly what the Packaging (P) versions of the high-speed, high-performance Alldrive and Hidrive machines provide, including optimised combinations of distance between tie bars, clamping force, opening stroke and injection unit, FEM-optimised mould platens, as well as servo-electric dosing drives with position-regulated barrier screws for high filling dynamics and short injection times. In addition, there are servo-electric toggle-type clamping units with energy recovery for fast braking with low weights.At the Plastimagen 2017, a hybrid Allrounder 630 H (P) with a clamping force of 2,300 kN and a 4-cavity mould from Otto Hofstetter produces food-safe noodle pots. The cycle time for four of these 11.5 gram PP pots is only four seconds.
A fully-assembled buggy in a single stepUsing the familiar example of toy buggies, Arburg will demonstrate automated injection moulding, including the assembly of complete component assemblies. For this purpose, a production cell built around a vertical Allrounder 375 V produces the individual parts from PP using a 1 + 1 + 2-cavity family mould in a cycle time of 25 seconds. A six-axis robot previously inserts the metal axles to be overmoulded into the mould and removes the four final components (chassis, roof and two axles together with the wheels) before joining them together in an assembly station to create the finished buggy.
The production cell for the Plastimagen 2017 has been realised by Arburg together with a Mexican automation specialist. As a primary contractor, Arburg covers the entire turnkey spectrum: from consulting and project planning, implementation and installation, through to service for the complete production cells. Customers can rely on customised injection moulding solutions from a single source, which are supported throughout their functional operation period and the product life cycle.
More info: