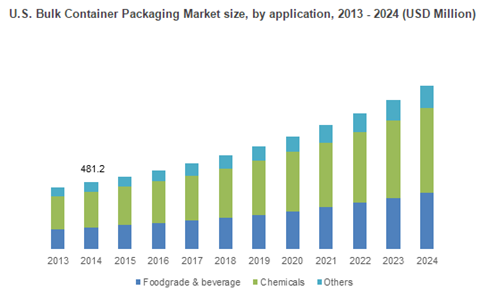 Bulk container packaging market is gaining traction with increasing trade activities across the borders and is poised to exhibit a profitable roadmap over the coming years.
Bulk container packaging can significantly meet the rising demand for an efficient commodity trade in terms of cost and operations. Bulk container packaging market is estimated to observe a double-digit CAGR of 10% over the period of 2016-2024. Surge in supply chain of import & export shipping especially from BRIC nations will lead to a certain development of bulk container packaging industry.
Increasing wine exports from Europe and rising edible oil demand from Southeast Asia are other vital factors causing a major upswing in bulk container packaging industry. These containers ensure safe and secure transport and storage which has led to soaring product demand. Bulk container industry encompasses bulk container liners, flexitanks and flexible intermediate bulk containers (FIBC) that can be accordingly used to transport solvents, food & beverages, chemicals, pharmaceuticals, and even sand.
FIBC market accumulated the highest share in bulk container packaging industry in 2015, owing to its increasing use in transporting detergents, polymers, building materials, and powdered non-hazardous chemicals. On the other hand, flexitanks are likely to display highest gains over the coming seven years due to their superior product characteristics to offer minimum contamination threats.
Bulk container packaging market from chemical application is slated to grow lucratively at a CAGR of 10% over 2016-2024. Chemical manufacturers' inclination toward establishing their manufacturing units in APAC subject to the easy availability of raw materials and cost effectiveness is fueling Asia Pacific manufacturing base, in turn driving the regional bulk container packaging market share. In addition to this, enhanced living standard of the consumers has heightened the intake of wine, fruits, coffee in these regions, which is further widening the regional growth scope. APAC bulk container packaging industry is slated to have maximum growth in the coming years with a CAGR projection of 11% over the period of 2016-2024.
Food and beverage, which is another prominent application arena of the bulk container packaging market, accounted for almost 30% of the overall share in terms of revenue in 2015. The massive food demand of the escalating global population is the driving force behind the market propulsion in this sector. With the increasing consumer spending capacity on beverages that include coffee, tea, and wine, the demand for food export/ import without contamination is surging which in turn is changing the market dynamics.
In 2015, North America bulk container packaging market led the global landscape and is anticipated to continue being one of the prominent regions thriving the market. U.S. is forecast to be the major revenue pocket on account of being a huge export ground for edibles.
Prominent industry players include MY Flexitank (MYF), BLT Flexitank Industrial, Braid Logistics, and SIA Flexitanks.
More info: