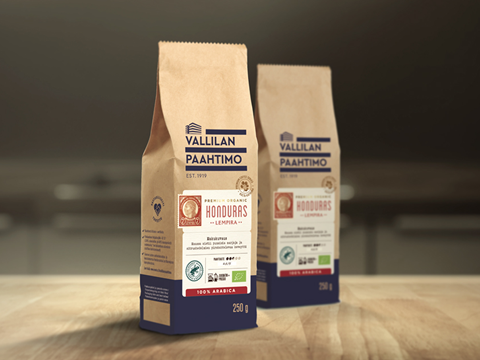 Packaging the perfect cup of coffee
On the packaging front, Meira worked closely with Amcor to minimize the pack's carbon footprint and identify opportunities for environmental performance improvement. They started by conducting a full lifecycle assessment of their packaging using ASSET, Amcor's lifecycle assessment process, which is certified by the Carbon Trust.
Following the packaging consultation process, the roaster's next step was to move to a metal-free barrier alternative and replace standard fossil-based PE with bio-based PE derived from sugar cane.
Bio-based materials, such as sugar cane, are renewable, which means they can be grown again. This is compared to traditional polymers, made from depletable fossil resources.
Replacing the aluminium barrier with Amcor's AmLite metal-free high barrier was particularly important to exceed modern consumer expectations for a quality product with sustainability credentials. By introducing Amcor's AmLite barrier and making the switch to bio-based PE, Meira reduced the carbon footprint of its coffee pack by 45%.
Within its own supply chain, Amcor sources materials for bio-PE that are responsibly grown, by collaborating closely with suppliers and insisting on responsible sourcing certifications such as Bonsucro and the International Sustainability and Carbon Certification.
Marleena Bask, strategy and sustainability director at Meira, said: "The three core pillars of our operations are to create responsible products and services, to take care of the well-being of our employees, supply chain partners, and customers, and to protect the environment through our supply chain."
For Meira, it is crucial that the production, quality, and product safety of its coffee are preserved. The packaging change did not affect their production capacity and it perfectly preserves the coffee's flavour and aroma.
Meira is continuing to push forward to meet its sustainability goals and is currently exploring how to introduce metal-free, bio-based packaging for other products too.
Learn more about Meira: www.meira.fi
Learn more about Amcor: www.amcor.com
This content is sponsored by Meira.