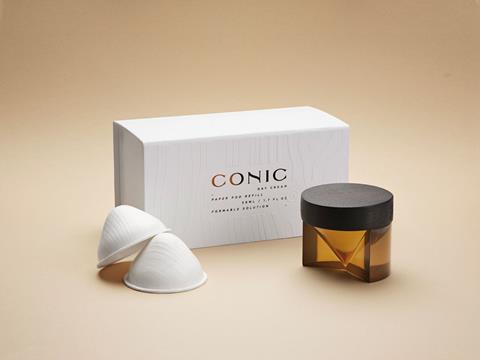 Paperboard solutions company Holmen Iggesund unveils its new prototype, Conic, developed with its partner organisations to replace plastics with wood-based materials for formable products.
The company says the initial prototype has been developed for the cosmetics industry. It consists of a conical-shaped refill, which could be used for creams or liquid soaps, and a transparent holder.
While the pots apparently look like they are made from plastic and the holder looks like glass, both are made from wood fibres. The outer box is made from Holmen Iggesund's Invercote paperboard.
According to the company, the prototype demonstrates how three-dimensional products usually made from plastics, such as cups and trays, can be made from sustainable materials.
Hein van den Reek, director of formables at Holmen Iggesund, says: "Formables is quite a new direction for Holmen Iggesund. But we are looking at the needs of the future and of customers."
The company adds that a key collaborator on the prototype is The Loop Factory, a start-up that has developed the dry moulding technology that creates formables from Holmen Iggesund's wood fibres.
Another collaboration, it says, is Grow, a brand development consultancy, whose Future Packaging Lab are working with engineers at The Loop Factory to create commercial applications with the technology.
According to van den Reek: "It is through co-learning and cooperating that you make the material, machine, design and brand work together.
"If you work through the value chain, you can come up with products that people need, are sustainable and we know how to treat them in the afterlife."
The product is not yet shelf ready and requires further development. The next stages in its development, says Holmen Iggesund, include an industrial demonstration and adding to its "ecosystem" of partners to be able to scale the product and bring it to market.
In the cosmetics mass market, other recent innovations include Beiersdorf's bio-based jars developed for NIVEA and made from certified renewable tall oil, reportedly with the same look and feel as virgin plastic despite a 41g reduction in virgin plastic used per jar. Earlier this year, a collaboration across the plastics value chain and led by Huhtamaki developed a new tube for cosmetics that contains more than 40% recycled content.
Holmen Iggesund will present the Conic prototype at LUXE PACK in Monaco, from the 27th to the 29th of September.