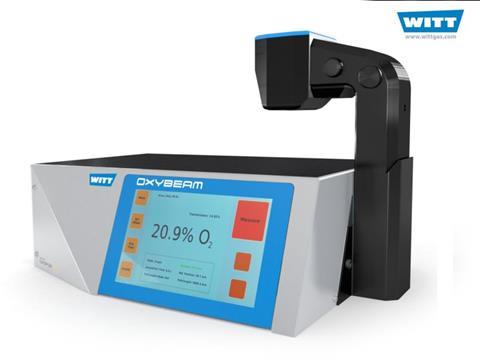 The higher the product quality, the more important the quality control – and therefore the more expensive, if the packaging is destroyed and the product can no longer be sold.
Witt-Gasetechnik are reducing these costs to zero: The new "Oxybeam" gas analyser from the MAP experts uses a laser beam to determine the oxygen content - without damaging the packaging.
The sole requirement is to have a small viewing window into the interior of the packaging, which is the case with most shells, deep-drawn forms or tubular bags.The product is laid under the sensor and the measurements are commenced via the touch screen. The result is available after about only four seconds. The compact table top analyser shows the measured residual oxygen content to an accuracy of 0.1 per cent absolute.
Oxybeam measures precisely how much laser light is absorbed in the packaging and so determines the oxygen content. In contrast to other light-based systems, the Witt device requires no separate reflecting surface that has to be glued inside the package or printed on the inside of the film – a real cost benefit. Head of Marketing Alexander Kampschulte is convinced that "the system represents a real advance in the final inspection of products packed under a protective atmosphere".
A further benefit: As the laser leaves the packaging undamaged and does not consume any protective gas during its use, repeated tests on a package as part of a long-term observation are possible.
Oxybeam works with a class 1 infrared laser that does not require eye protection, due to its 760 nm wavelength. The product in the packaging as a whole does not even get warm as the laser power is less than 0.5 mW. The sensor measures the oxygen content over the full range from 0.1 to 100 per cent. The headspace of the packaging should be around 16 to 80 mm. All measurements by the device can naturally be stored and exported for evaluation and archiving. Calibration is performed once per year.
The measurement using laser light is currently the most advanced technology in this business segment. Witt is thereby extending its range of gas analysers which can be provided as mobile, table-top or inline systems for packaging of all types.
More info: