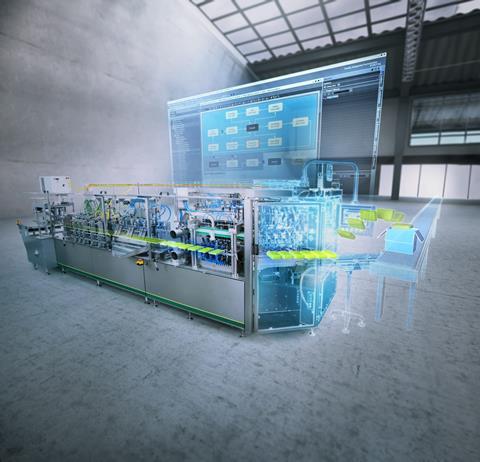 Increasing cost pressure, ever shorter development times, and the call for even more flexible machines. These are the demands facing today's mechanical engineering on a daily basis – and in the packaging industry as well.
Innovative machine concepts which increase productivity in the packaging industry are required in order to be able to provide a competitive answer to these challenges.
Digitalisation and the associated change in manufacturing methods are now an integral part of the packaging industry and are also becoming more and more important: From the digital value chain in the engineering process, to the simple integration of machines into the production line. This is making high demands on mechanical engineering.
At FachPack, Siemens is showing where the digital and real worlds merge. The focus at Siemens' presence in Hall 3, booth 327, is the added value that digitalisation can provide for new machine concepts where the demands of speed, efficiency, individuality and flexibility work together in harmony.
MindSphere, the cloud-based, open IoT operating system from Siemens, offers completely new possibilities in the field of digital services. Siemens is also showing innovative solutions from the perspective of the plant operator using examples from the food and drink, and pharmaceutical industries. These include software solutions which simulate and validate mechatronic concepts and high-efficiency engineering tools, as well as a new functional library with modular software solutions which form the basis of standard applications in the packaging industry.
ShowCase – digitalisation at MIF (tubular bagging machine)
The highlight on the booth is the digital twin of a machine and the associated simulation of manufacturing processes. Using a real Basic 490 tubular bagging machine from MIF and its digital twin produced with the NX Mechatronics Concept Designer, Siemens is showing how machine manufacturers can significantly reduce machine development times and thus accelerate their time-to-market. 1:1 mapping of the real machine, which saves having to produce expensive prototypes, means, amongst other things, a machine can be commissioned in the virtual world: This allows machine processes to be tested in advance and any problems or errors can be economically resolved before they occur in real operation.
New modular packaging library and common hardware base for innovative machine concepts in the packaging industry.
The new modular software library for packaging machines forms the basis of the latest generation of machines – irrespective of type. The hardware is based on the Simatic S7-1500 controller. Simatic S7-1500 controllers, Sinamics drives and Simotics motors are quickly and easily combined with the relevant field-tested software modules via the TIA Portal Engineering Framework to form standard applications. The packaging library modules include ready-to-use HMI (Human Machine Interface) pages. This allows mechanical engineers to quickly adapt Siemens software to his or her own requirements.