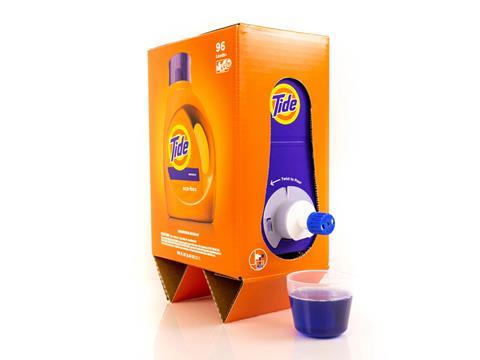 The packaging development project addressed the classic last-mile pain points in three specific areas, according to Ty. This begins with the basic structure. "The Eco-Box is a robust shipper," he observed. "The boxed design is a great chassis to ship heavy liquids in. The bag-in-box combination offers significantly more puncture resistance than a pouch alone and when combined with a cardboard shell absorbs significantly more impact from drops or falls than a ridged plastic bottle. Secondly, the dose cup and dosing spout are protected in shipment. "The eco-box protects the dosing cap and spout inside of the shipping footprint during shipment and uses a patent-pending opening mechanism to simply transition the spout outside of the footprint for use." Thirdly, the cubic form facilitates easier storage, shipping and delivery. "In fact, we made the shape so compact we developed collapsible legs to make it easier to position the dose cup underneath the spout when is use," Ty revealed.
"E-commerce isn't a trend anymore"
The Tide Eco-Box represents the first product launch originating from P&G Fabric Care's eCommerce Innovation Group. "For the first time, we have designed a package 'e-comm-Back' – beginning with the unique challenges and opportunities the e-commerce environment presents," said Sundar Raman, VP of P&G's North America Fabric Care business. "This is a fundamentally different approach than we've taken in the past and represents our relentless obsession with delighting consumers – wherever they want to purchase our brands."
P&G vows to continue innovating in the e-commerce space as it adapts its product offerings for the channels its consumers are shopping. "We have some pretty exciting e-commerce projects we're working on, and that shouldn't be surprising," says Isaac Hellemn, brand manager for eCommerce innovation in P&G's Fabric Care group. "E-commerce isn't a trend anymore, it's a reality, and we're excited to keep innovating for it."
The Tide Eco-Box will be available exclusively online at major e-commerce retailers in the US beginning in January 2019.