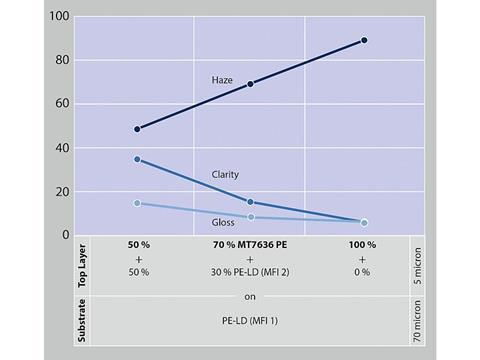 MT7636PE is a newly developed matte additive from Tosaf to create thin (2 to 5 microns) skin layers on oriented and non-oriented polyolefin films, now including Polyethylene, combining superb haze (app. 80 %) with low gloss (<10).
Specific areas with matte effect can be made transparent by applying a lacquer coating or by gluing a clear label on top of the matte layer.
Based on a special polymer mixture which does not contain fillers, MT7636PE provides outstanding advantages including:
• full control of haze/gloss properties on demand
• cost saving matte effect without additional converting process
• excellent rheology for easy processing
• low die build-up
• suitable for PE and PP films
Using MT7636PE, converters can easily achieve a luxurious look thanks to a uniformly continuous light transmission with a perfectly consistent transparency level over the entire surface. Beyond, this new matte additive provides a perfect substrate to be printed with a clear lacquer, thus providing areas with complete transparency. Thanks to its high surface roughness, MT7636PE supports good adhesion of such lacquers and other inks to the film.
Typical applications of MT7636PE include food packaging, mainly dry food such as pasta, bread, etc. as well as pet food.