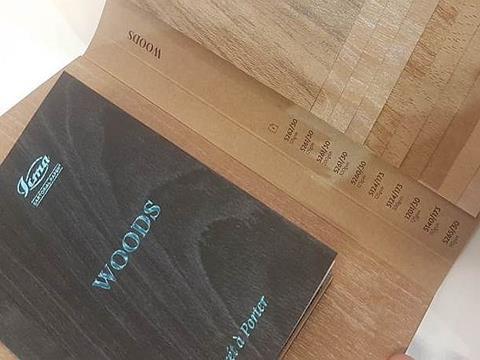 Our sight immediately recognizes bark and sections of a trunk with its grain and knots. Our sense of touch encounters the patterns in relief, fully identifying with wood.
Yet it is paper, created in various weights for box covering, shopping bags and corporate publishing. Having premiered at LuxePack, the Woods collection now includes 19 papers which, in different hues of colour and designs, lead us to explore a forest or invite us on an adventurous journey through the equatorial rainforest.
Many of the typical plants found in our forests are represented in the collection: from light colours tending to birch or poplar white, the cream colour of beech wood, or the typical grey of ash and pinewood with a special tone of "worn" white reminiscent of the rustic floors of many homes in Northern Europe, to the reddish-brown of larch, or the brown hues named after the very plants that represent them, such as oak, chestnut and walnut. With the darker colours, we enter an exotic rainforest, ruled by rosewood, wengè, and ebony in a shade of black that makes even the tiniest designs of the texture visible.
Nature, authenticity, and candour are cross-cutting concepts in many sectors, which add substantial value to the identity of products. This is a heart-felt trend for many luxury brands dealing in cosmetics, culinary specialties, wine and spirits, cigars, and five-star hotels.
Among other things, the Woods collection also includes finishes created on FSC (Icma has had this certification since 2009) and kraft papers, which today are still the most natural aspect of the paper industry. The wood finish is created by Icma reusing 100% of the water from the manufacturing process, together with energy accumulated through a photovoltaic system which, during the sunniest periods, fully covers the company's energy requirements.
More info: