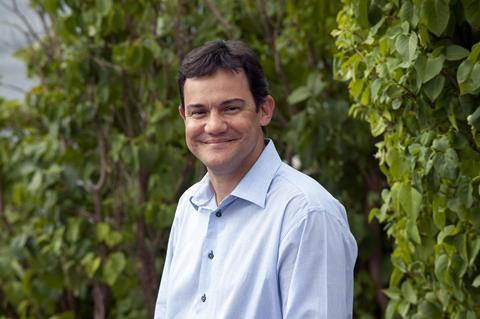 Mario Abreu, Tetra Pak's sustainability VP, talks to Packaging Europe about the biggest sustainability challenges the packaging industry faces, and outlines opportunities and solutions.
What would you identify as the biggest sustainability issue of the day?
Report after report is coming in warning about the severe impact human activities have on biodiversity and how the rate of global warming is accelerating at an even more alarming rate than previously feared. On top of that, there is the question of circular economy and plastic waste. We as individuals have to find a way to make the right choices with regards to what products and services we use. Tetra Pak has always considered both climate change and recycling as key. The company has reached a point where there are no risks associated to biodiversity from its material sourcing, and has been reporting to the CDP Supplier Climate programme since 2009. Consumer and brand owner pressure for better recyclability have become much stronger in recent years, which has created great opportunities. For successful recycling to happen you need consumer engagement and local authorities enabling collection, and the time is right to further boost recycling rates.
How can carton recycling rates be boosted?
The role we see for Tetra Pak and the beverage carton industry is to ensure recycling capacity is available and recycling technologies are comfortable for the recyclers. Recyclers need to have a business and so we need to help them finding the right technologies. Tetra Pak has an active collaboration with around 160 recyclers around the world. Not all of these recyclers are getting as many cartons as they would be able to or would like to process, so now is the opportunity to work together as an industry with retail, with brand owners and with local authorities to ensure the utilisation of the recycling assets that are available out in the market. Many recyclers still have capacity to recycle more. Since plastics and beverage cartons cannot be sent to China any more for recycling, it is now up to Europe to look internally to find the right capacity locally.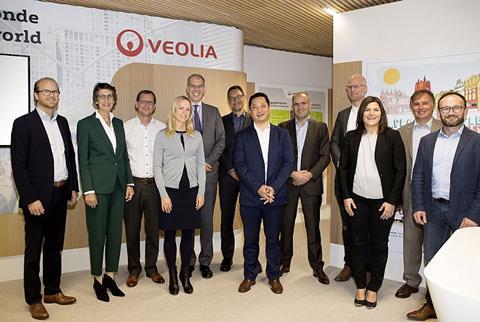 Tetra Pak has joined forces with global resource management company Veolia in a game-changing partnership that will enable all components of used beverage cartons collected within the European Union to be recycled by 2025.The average beverage carton comprises around 75% paperboard, 20% plastic and 5% aluminium foil. But while the fibres recovered during recycling have a healthy market when converted into high-quality paper pulp for use in both industrial and consumer products, the same is not true for the recovered polymer and aluminium (PolyAl) mix. Within the scope of the new partnership, the extracted PolyAl will be processed at dedicated facilities and converted into raw materials for applications within the plastic industry. In this way, the overall value of used beverage cartons is expected to double, making the value chain for collection and recycling more efficient and viable.The Tetra Pak and Veolia partnership will start in the EU and expand to more markets around the world.
Could China no longer accepting imported waste result in a boost for local recycling industries?
Yes, I think so. But of course, just because there's more opportunity doesn't mean that local recycling capacities appear overnight. Sudden economic movements don't work. With the option of export off the table, a market has to be created. I think the outcome of all of this will be very positive as there will be a need for more local recycling in Europe. But of course the transformation won't happen overnight.
At Tetra Pak, how do you strike the balance between optimal product protection and sustainability?
Both product protection and food safety are important drivers. The environmental impact of packaging is normally very small, compared to the potential environmental impact of food. One of our one litre packs weighs about 5 per cent of the product or less. Comparing the impact of losing one kilogram of product that is not properly protected to a pack, the impact of the food loss is always going to be so much bigger. Ultimately, you want to protect the food as a lot of environmental impact in terms of land, energy and water goes into it. As a packaging supplier, we have to design packs that provide all of this and also have a low carbon footprint. We are looking at the source of the materials we use and that there is a potential for collection and recycling. The challenge with any lightweight packaging is that normally collection and recycling is driven by weight. The cost of collection is a cost by ton. The lighter your package is, the higher the cost of collection per ton tends to be, because you have to collect a lot of individual lightweight packages to achieve the same weight.
Could you give us an update on Tetra Pak's bio-based products?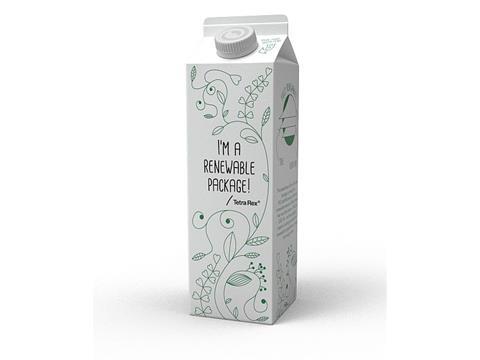 With the Tetra Rex Bio-based and the Tetra Brik Asepctic Edge Bio-based Tetra Pak has launched a range of cartons manufactured solely from paperboard and plastics derived from plants. We were keen to keep using bio-based materials that can be mixed with other conventional polymers into the same recycling streams.
Our next step to start expanding the capacity for manufacturing bio-based materials. The industry for several decades has been dedicated to very large, very efficient plants that use oil to produce polyethylene and polyesters, and bio-based materials are not competing at the same scale yet. The interest from consumers in bio-based products gives us the confidence that we can go out in the market and look for supporting additional investment that will unlock more bio-based polymers to be produced. That is our next step. We don't want to use biopolymers that are made exactly like the old conventional ones. We want to create a new industry.
What new sustainability demands do you see in the future?
We have an opportunity where society at large is committed to change, and so I think this is an opportunity to drive more collection, more recycling and regulation that supports all of this. Plastics is what you see on the news every day, but there is so much recyclable packaging material. Plastic floats, that's why it's more visible.
But it would be a mistake to just talk about ocean health by removing waste and not take climate change into consideration. The water temperatures are rising in the ocean and that is going to be devastating for ocean life, and the increasing patterns of draughts and floods will be devastating for food production. Climate change is the big challenge we face as society. So I think we at Tetra Pak have quite a lot to reduce our carbon footprint, but of course I think we have to do more, and everybody else has to be more, because the challenge is so big.
Being circular is good but not good enough. The circle needs to be powered. Energy and materials have to be renewable. Our challenge is to create a circular economy that runs with renewable energy using with renewable materials and has the lowest possible carbon footprint.