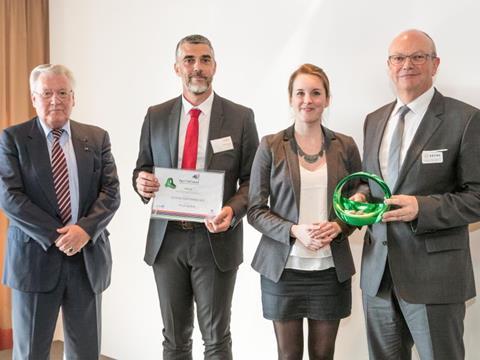 The Optys bottle has won the ECODESIGN award in the "PackTheFuture 2017" competition in Dusseldorf. This win secures the Optys a place in World Packaging Organisation's pre-eminent and international 2018 Worldstar Awards.
Launched in March 2016 by Eker, a leading manufacturer of dairy products in Turkey, the Optys bottle is made of a Coveris pre-printed polypropylene plastic sheet thermoformed on-site with Serac's technology. This technology allows precise calibration of a sheet's thickness and ensures a minimal amount of plastic is used, which gives the Optys the best packaging to volume weight ratio on the market (9 g for 195 ml in the case of Eker).
The carbon footprint of the Optys bottle is low thanks to its 100% on-site bottle manufacturing and application of artwork directly to the extruded polypropylene plastic sheet, eliminating transportation and production of preforms, labels, and sleeves. Moreover, the plastic sheets are delivered in reels that require far less volume for transportation than empty bottles or preforms.
Further benefits for the environment include the good level of hygiene and closed neck of the bottle, which makes use of chemical decontamination unnecessary and eliminates use of water and chemical products harmful to the environment.
Other innovative highlights include decoration from the bottom to the top of the neck and an ability to produce various colours on the outside and inside of the bottle.
The bottle is easily recycled and has a wide range of applications, including for dairy products, sauces and juices, as well as non-food applications, such as homecare and personal care products.
More info: