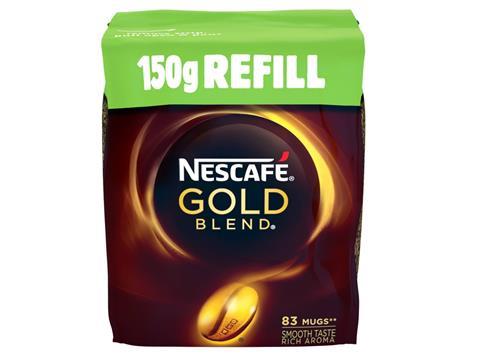 Alison Ingle, group packaging manager at Nestlé UK & Ireland, tells Tim Sykes how the giant brand owner approaches packaging development from the point of view of sustainability and other major innovation drivers.
TS
What are the defining characteristics of Nestlé's sustainability policy and how does overarching policy inform the packaging development process?
AI
To improve the environmental performance of our products, we need to assess and improve their environmental impacts from the moment we begin to design them. This means getting a clear understanding of the environmental life-cycle impacts of our products - from agricultural production and the sourcing of ingredients through to what happens at the end of a product's life - across the value chain.
The packaging of our products is crucial to prevent food waste, guarantee our high quality and safety standards and inform our consumers. Nestlé takes a life cycle approach to its products and packaging. Nestlé are committed to:
-Optimising the weight and volume of our packaging;
-Leading the development and use of materials from sustainably managed renewable resources that meet packaging, product and environmental performance requirements;
-Supporting initiatives to recycle or recover energy from used packaging; and
-Using recycled materials where there is an environmental benefit and where it is appropriate.
Within product development we use eco-design tools (which follow Life Cycle Assessment methodology) to support our packaging and product development teams. This allows a detailed comparison of the environmental impacts of different packaging choices, including packaging end-of-life, across a range of environmental indicators.
Nestlé in the UK are a key member of the consortium with Enval Limited. Enval has developed a method of recycling aluminium-plastic foils, i.e. pet-food pouches or coffee packs. The technology separates the material into its different components, producing clean aluminium ready for introduction into the secondary aluminium supply chain and hydrocarbons that can be used for fuel or chemical feedstock.
Nestlé UK & Ireland is partnering with Coca-Cola Enterprises, Tesco and waste partners Enval, SITA UK and LRS Consultancy, having received funding from the Department for Environment, Food and Rural Affairs (Defra) to explore options for collecting flexible laminate packaging containing aluminium, so that the plastics can be recovered and converted into fuel, and the aluminium recycled. Trials are due to begin in 2015.
TS
Can you give any examples of successful packaging development projects Nestlé has recently undertaken that have resulted in significant environmental gains?
AI
A good example is the 2012 launch of the Nescafe refill pouch, which with the compact format uses 34 per cent less packaging than our previous refill pouch and requires 50 per cent fewer lorries in transportation. This was communicated to consumers through the messaging on back of pack and through billboards such as the below.
TS
How does the organisation mediate the trade-offs that need to be made between sustainability goals, marketing priorities, cost and functionality? Is it the job of people like you to find the sweet spot somewhere in between these considerations?
AI
Within packaging development we are always looking to find the 'sweet spot' with a packaging solution which meets the required brief, has sustainability benefits and has the required functionality. We use both eco-design tools as described above, as well as using industry guidelines on design for recycling and inclusive design methodology within packaging development to try to ensure we consider all key aspects. We always aim to ensure that consumers are delighted with the end product experience.
TS
Speaking more generally about innovation, to what extent are packaging concepts driven by new technologies and products available on the market or initiated internally? (I'm sure there is a mixture of both and variation according to the product, but I'd like to get at how the relationship between Nestlé's packaging specialists and external suppliers functions, and what factors can tilt the balance.)
AI
Within Nestle we have dedicated research and development resources for each different business that drive innovation globally. Innovation can come from a variety of sources either initiated internally through our R&D community, through close collaboration with suppliers or from new technologies available. To be able to deliver the right innovation to the market it is important to understand clearly what the consumer needs and values in the specific market you are developing the product for.
TS
To what extent does Nestlé formulate broad, long-term packaging policies to think through responses to megatrends?
AI
For packaging, we have defined five focus areas which are related to consumer & customer centricity, technology master ship, operational excellence, sustainability and compliance. For each focus area we have long term views, strategies and consequently related global policies and processes in place. Aging population for example is covered within the area of consumer centricity.
TS
Could you name some of the most significant consumer trends which are shifting the kind of packaging you use - and the formats that are growing in popularity as a result?
AI
Demographic changes like aging population, growing single households and urbanisation have a major influence on our packaging formats. We have to adapt the functionality of our packages to the needs of the elderly people, smaller pack sizes and snacking formats are growing due to the change of household sizes and urban life styles. Over-nutrition is a major concern in our western society; packaging plays a major role to inform consumers on portion guidance but also on potion control via adapted pack sizes or reclose-ability features.
New technologies like smart phones offer revolutionary new ways to connect and engage with our consumers via packaging and related formats. On the other hand, affordability becomes more and more relevant for European consumers, so the pressure on reducing packaging and distribution cost is getting even higher in order to address these consumer needs.
TS
International brands face a choice around the balance between consistency and communicating with consumers in local markets. How does Nestlé approach this dichotomy? How much central control is there over branding and packaging design?
AI
We don't see this balance as a dichotomy - instead we see it as leveraging the best of both worlds where global strategy is adapted to be relevant to local consumers. We do this by balancing centralisation and decentralisation through establishing set principles for strategy and execution - and in so doing we build strong global brands through creating alignment between the Strategic Business Units and the markets.
As a result we aspire to one global strategy that may have different expressions in different markets depending upon the situation or consumers in that country. For brand identity and packaging design, we provide guidance in the form of standards which help ensure the brand's strategy is understood locally and translated well into execution.