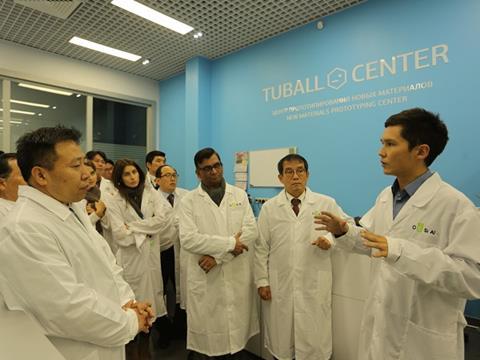 Founded in 2009, OCSiAl has rapidly grown from a Siberian tech startup to a Luxembourg-headquartered global business that is realising the potential of nanotechnology at viable costs in a wide range of industrial sectors. Tim Sykes travelled to Novosibirsk to learn what makes single wall carbon nanotubes such a potent technology and explore the implications for the packaging market.
At the recent Nano Augmented Materials industry summit, hosted by OCSiAl, co-founder Yuriy Koropachinskiy pointed out that throughout human history technological leaps have been accompanied by utilisation of new materials - from the central importance of cast iron to the industrial revolution in the eighteenth century to the microcircuits that launched the age of information technology. It is on this epochal scale that OCSiAl thinks about its mission in the world. For, in an age looking toward smart technology to deliver resource efficiency, high performance, smart materials are set to be the vehicle for a new wave of technological advances.
Revolutionary potential
Single wall carbon nanotubes (SWCNT) have been around since the 1990s, when they were discovered to possess a range of astonishing qualities: they are 100 times stronger than steel, have excellent conductivity, and therefore anti-static properties, and thermal stability up to 1000°C. Another key advantage is that desired properties can be achieved with ultra-low loadings of the additive - hundreds or thousands of times lower than other widely used conductive additives, and starting from concentrations of just 0.01 per cent.
However, commercial application of SWCNT was largely restricted until the development of a cost effective synthesis technology by OCSiAl's co-founder Mikhail Predtechenskiy. A pilot facility named the 'Graphetron 1.0' was installed in the company's scientific and prototyping centre in Akademgorodok, Novosibirsk. The successful operation of this line gave experimental proof of the unlimited scaling potential of the synthesis technology. With this unique technology, OCSiAl now enjoys an overwhelming market share, synthesises close to 90 per cent of the world's SWCNT capacity, and offers the product at a price 75 times lower than its competitors. With operations in the USA, South Korea, Luxembourg, Hong Kong, China, India and Russia, OCSiAl is leveraging these advantages to rapidly expand the geographical and industrial footprint of its TUBALL brand.
Packaging game-changer?
Nanotubes are expected to have a huge impact across a range of advanced technologies, including high performance composites, molecular electronics and ultra-sensitive sensor devices. Thanks to their core properties, they are also poised to emerge as a disruptive technology in the world of packaging."
The range of potential applications in the packaging sector is very wide," Christoph Siara, sales and marketing director for OCSiAl Europe, told Packaging Europe. "There are clear opportunities for the use of SWCNT in both FMCG packaging and in bulk / industrial contexts."
With TUBALL, nanotubes can be introduced either into the body of the material or into a coating that is subsequently applied to the surface. "As far as the FMCG market is concerned, thermoformed rigid and semi-rigid substrates containing SWCNT offer numerous advantages," said Mr Siara. "It provides electrical and thermal conductivity. You can use less material, providing weight reductions per square metre. Its heat absorption properties can also help accelerate processing - by up to around 30 per cent. Lidding can be coated with TUBALL, which, apart from downgauging opportunities, imparts conductive properties that eliminate problems with static, enabling converters to run machines faster. In laminates SWCNT can be applied in the adhesives between layers. This yields much higher adhesion levels, with a much wider temperature window, which opens up the possibility of using water-based systems for heat-treated packaging."
One's imagination struggles to keep up with the possibilities. Carbon nanotubes can be introduced into inks, and their conductivity utilised to facilitate differentiation and anti-counterfeiting solutions. There is the prospect of achieving significantly higher speeds on vertical and horizontal flow wrap machines, delivering better bonding in the process. Specialised packaging films for semiconductors, benefiting from TUBALL's antistatic properties, are already on the market. There is also the potential to improve barrier properties, since SWCNT are not affected by humidity. Moreover, the properties of nanotubes are applicable to almost any material. Introduced into the substrate of glass containers, TUBALL can increase the strength by up to 50 per cent, while enhancing surface properties. In trials the rejection rate was reduced by 90 per cent. There is similar potential for aluminium.
Meanwhile, OCSiAl's technology also promises to add significant value in the bulk packaging arena. "When it comes to extrusion processes for the production of IBCs, introducing TUBALL into the substrate gives anti-static properties well in advance of anything available today," Mr Siara said. "This is very valuable in transportation of volatile and explosive goods. In addition, the structural potential of SWCNT makes considerable lightweighting possible, which can have a very interesting impact looking at the supply chain from a Life Cycle Analysis point of view. There are also bulk packaging applications in textile sacks with TUBALL coated fibres."
Growth challenges
The packaging market potential is so broad that at first glance the greatest challenge would appear to be identifying and prioritising the most lucrative immediate market opportunities. However, for the moment the greatest limitation is production capacity. OCSiAl is investing heavily to increase volumes, which are projected to exceed 1000 tonnes by 2020, and 3000 tonnes by 2022.
Another objective is to educate the marketplace about the benefits of SWCNT, and in some marketplaces help reshape cautious public perceptions of nanotechnology. According to Mr Siara, OCSiAl intends to fully participate in this process. This will involve cultivating awareness of the economic and social benefits of the technology, such as further reducing packaging and product waste. Once clear market opportunities emerge, it is likely to also involve taking the necessary steps to secure regulatory compliance for direct food contact.
More fundamentally, as the vast implications of SWCNT begin to unfold in the marketplace, it is fascinating to observe OCSiAl's focus as an innovator begin to shift. It could be said that the first phase of OCSiAl's history is complete - mastering and commercialising its unique synthesis technology. Future growth is destined to be driven by the development of products that utilise nanotubes across multiple industries. Today OCSiAl works closely with partners throughout the world across an array of sectors. But how proactive will the company be in stimulating innovation? Will its highly impressive R&D resources increasingly turn towards application development?"
Our current business model is essentially that of a raw materials supplier but we have started to evolve," Mr Siara remarked. "TUBALL has the potential to form the basis of many new product categories. We have business units dedicated to working in all of these markets, and where there is a business case supporting it we're ready to work with partners in order to launch new products, possibly under our own name. An example of this is the TUBALL MATRIX line of concentrates, which are a proprietary product, not open-source. These are a range of off-the-shelf solutions that can replace the traditional masterbatch. So today we're in a phase of building up the supply chain, and we intend to support the market right down to the end product."
While one anticipates further product development, it would be remiss to understate the technological achievement behind OCSiAl's basic product. "It is worth pointing out that nanotubes are a very new technology in themselves with endless potential," commented Dr Evgeniy Ilin, head of OCSiAl's Polymers Division. "Understanding their properties and developing a level of expertise with which we can support our clients has taken up a huge amount of research and development resources. Thanks to our ongoing efforts, we have worked out how to create compounds incorporating SWCNT. We can incorporate nanotubes into many types of plastic, including over thirty types of polyethylene at different levels of viscosity. What I personally find most satisfying about this work is attaining an end product that exhibits the exact attributes that we set out to achieve."
Dr Ilin's enthusiasm is in fact characteristic of a company culture centred on science and on a missionary consciousness of the transformative role TUBALL will play in the wider world. OCSiAl has been steadily expanding its R&D facilities in Akademgorodok, not least with the 2015 opening of its TUBALL Center, focussed on rubbers, plastics, composites, transparent conductive films, paints and coatings. Meanwhile, expansion of production and global commercial operations are inevitable.
In parallel with this expansion, SWCNT will appear in more and more applications - some we have foreseen, some that have yet to be thought up. Christoph Siara concluded his interview with an analogy: "As you know, carbon nanotubes support an electrical current. Consciousness itself is an electrical current. I believe the more TUBALL spreads within materials, the more possibilities we emerge."
After all, smart technologies rely upon revolutionary materials.