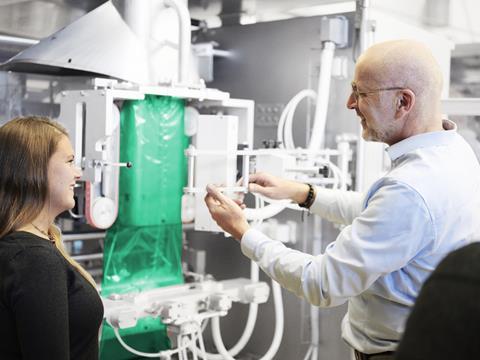 On your marks…
In our testing laboratories, we examine which sustainable packaging materials, such as paper or mono-materials, are best suited for our customers' existing machines. We then test these alternatives on machines that match the customers' equipment. All results are compiled in the detailed test report with recommendations for alternative packaging materials and any required machine adjustments.
Get set…
Our customers are welcome to visit any of our three test centers to witness the test runs, where we test customer materials on different forming and sealing units. The goal is to increase process efficiency of sustainable packaging alternatives, while taking various parameters such as material processing, consumption, speed and quality into account.
Go!
Whether our customers need a flow wrap or vacuum packaging, or a totally different packaging format – we will find the ideal sustainable solution for all applications. After the test runs, we can provide a range of packaging samples made of different sustainable materials to give customers a better idea of the final packaging solution. If any machine modifications are required, they can rely on our long-standing experience and know-how.
Are you looking for a more sustainable packaging solution for your products? We will be happy to advise you.
Contact
Torsten Sauer
Project Lead Sustainability
Syntegon Technology GmbH
E-Mail: torsten.sauer2@syntegon.com
Tel: +49 7151 142 137
This content was sponsored by Syntegon.