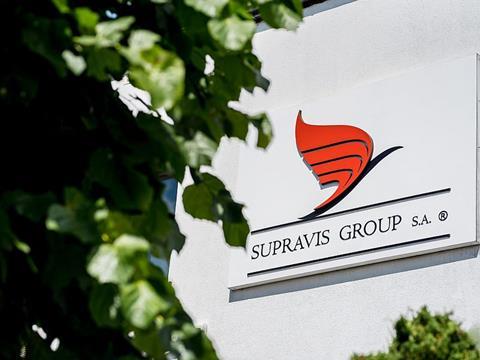 Leading the way in the fast-growing fresh food packaging market, Poland-based Supravis Group redefines its product portfolio with new production technologies in order to challenge established players across the European continent.
Following a four-year period in which the company saw sales increase by 60% and investments in production capacity of over 25 million EUR, the time has now come for fine-tuning the product offering to match the needs of even the most demanding clients. At this year's FachPack in Nuremberg, Supravis will launch the full extent of its 2018 portfolio, with new products and new trade brands to reflect the increased sophistication of its production capabilities. As it has for decades, the company strives to offer the widest possible range of packaging types in order to become the one-stop shop of choice for fresh food producers worldwide.
At the forefront of its redesigned product range is the new SUPRAFORM® line of thermoformable films, which includes the most advanced 11-layer formulations found in the market today. These high value-added structures are made possible only by employing cutting-edge technology, such as the newly commissioned Filmex® extrusion line which was painstakingly designed in close partnership with the machine supplier in order to ensure game-changing film parameters. Products in this category proudly reflect over 20 years' worth of proprietary know-how and offer measurable efficiency gains to end users – both in terms of downgauging and waste reduction.
Another category with very high growth potential and proven top quality is the SUPRATHERM® brand, which includes thermoshrinkable materials such as sleeves, bags and films. Manufactured with perhaps the most high-tech triple bubble technology, this type of packaging is truly at the forefront of possibilities, offering high shrinkage to prevent leakage and high gloss for exceptional product presentation. These shrink materials come in formulations of up to 11 layers, which allows for utmost sophistication in demanding applications such as cheese-ripening bags or bone-in meat.
Perhaps the most visually appealing category of the new portfolio, the new SUPRALAM® line of flexible laminates aims to drive product presentation to a new level with 10-colour HD printing capacity and stunning effects such as paper-imitating varnish, silk-like lacquer or selective matt/gloss combinations. The barrier laminates in this range are manufactured in a vertically-integrated production chain, which includes the in-house extrusion of highly efficient nine-layer films designed for lamination, top quality flexo printing, as well as video inspection software used to guarantee flawless finished products.
Meeting the demands of end users and converters alike, Supravis has designed its SUPRACLEAR® category of flat films and vacuum pouches to give the widest possible range of formulations, dependent on specific customer needs. Included in this category are films dedicated for lamination, pouch-making and various other converting processes, as well as ready-made vacuum pouches. All of the products in this range benefit from advanced extrusion technology and process know-how, ensuring the highest quality and flexibility, but also very competitive cost.
Rounding off the redesigned portfolio of Supravis Group is its bestselling range of SUPRACASE® polyamide casings, which have been recognised worldwide for over 30 years. The position of Supravis as one of the first commercial producers of polyamide casings in the CEE region means the company has unparalleled experience in areas of extrusion, printing and shirring, offering tried and tested products. These come in a variety of attractive colour options and can be used in the most challenging applications, such as sterilisation at 125˚C or pressing in a mould.
The "new chapter" slogan promoting Supravis Group's 2018 product portfolio is intended to reflect the newly reorganised range of top-quality packaging solutions designed for the most sophisticated applications. However, it also reflects the changing landscape in the European packaging industry. Today the centre of gravity in packaging manufacturing is shifting ever further east, promoting younger, fresher companies which now offer superior quality and service while still maintaining a significant cost advantage over their Western European counterparts. This trend is helping Supravis Group reach customers in an ever-increasing number of locations, delivering consistency, flexibility and constant innovation.