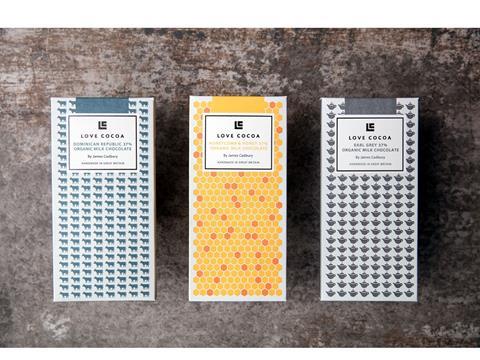 How important is your ancestral legacy when it came to the establishment of Love Cocoa?
One of the reasons Cadbury was so successful at the start is that they were really innovative. They were quite visionary at the time, for example one of the founders hand drew a lot of the branding.
We have taken the ethos from the beginnings of Cadbury and have put this into Love Cocoa.
Entering a competitive marketplace, how has digital print supported you as a small business owner?
I presumed that printing capabilities for packaging was a very modern arena, and had advanced from litho.
I started out using the litho process, but recently transitioned over to digital for some of our specialty packaging. It is beneficial for carrying out shorter runs, and for keeping on top of stock. As a small business currently, it's important to keep cash flow tight and to have the flexibility to order smaller amounts of units.
We aim to use digital printing more in the future, for example when we launch specialty products for Valentine's Day. This means we can do test runs with say one thousand units rather than 50, 000.
How will consumers benefit from the customisation of Love Cocoa's gift pack, and why are you developing this aspect?
Our online customers will be able to customise a gift pack in four ways.
They will be able to add photos from social media (i.e. Instagram, Facebook), add a personalised message, choose between chocolate bars to include in the pack from a selection, and choose the colour of the pack. We are really excited about these developments and are expecting to receive a lot of online orders.
On top of this, the pack has a secondary purpose in that it has also been designed to be kept as a keepsake. The back panel can be folded over so it can be displayed on a shelf or table for example. Instead of throwing the packaging away, hopefully the consumer will keep the pack and remember us, leading to repeat orders.
How does digital print help your brand stand out in a competitive marketplace?
The rationale is that if the quality and design of the packaging stands out then the consumer will engage with it and hopefully save it as a keepsake.
Looking at the marketplace, other packaging in this arena is not as high quality. For example, some brand's attempts at personalisation is simply achieved by adding a label.
By using digital print, Love Cocoa aims to deliver high quality on the pack, which differentiates it and gives it shelf appeal in the competitive marketplace. We've received a lot of positive feedback for our packaging as it stands out.
We create a premium product with high quality chocolate, so the packaging needs to reflect this.
More info: