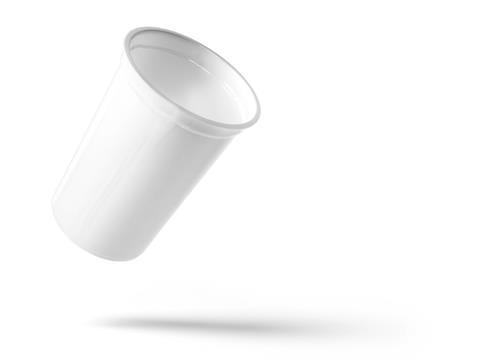 Starlinger viscotec, a division of the Austrian machinery supplier Starlinger & Co GmbH, has developed a new, recyclable material made from rPET for dairy and hot-fill applications.
Food packaging for applications like dairy, hot drinks, instant soups, and ready meals must withstand higher temperatures during the production process and consumption. Additionally, dairy products require packaging with optimal light and gas barrier for longer shelf life.
The new rPET100 sheet aims to combine these benefits and add new ones: it is heat resistant, made from mono-material, and its white colour protects the product from UV light. Once used, the company says that its solution can be recycled because it contains no other polymer additives.
Starlinger hopes that trays, cups, and food containers made from rPET100 can function as alternatives to those made from virgin polypropylene and polystyrene.
According to the company, its post-consumer recycled PET fulfils all requirements of the European Food Safety Agency (efsa) when it has been super-cleaned with Starlinger viscotec technology.
Up to 100% recycling content is possible for rPET100. In addition, Starlinger reports that rPET100 has an improved CO2 balance due to recycled PET having a smaller CO2 footprint, in addition to its recyclability.
Meanwhile, Starlinger's rPET sheet lines are designed for improved sheet quality at high throughput rates. Converters who run Starlinger viscotec equipment can manufacture rPET100 sheet without making changes to the set-up of their installation.