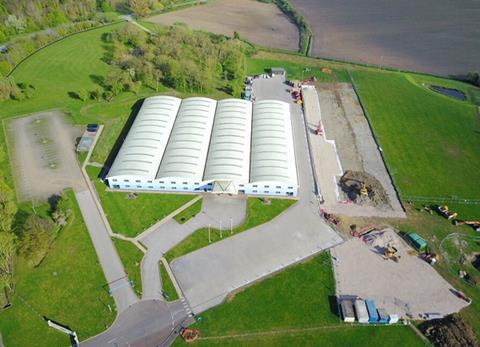 Spectra's on-going expansion programme is now in full swing with building work underway at its bespoke manufacturing plant in Suffolk.
Groundwork foundations have been set for new steel structures at the company's 17.4-acre purpose built site. Completion of building work is scheduled for the end of this year and Spectra plan to be up, running and operational by the end of April 2018.
Joe Maynard, Managing Director at Spectra sees the construction work as a true measure of how far the company has come in just under ten years.
He said, "It's hugely satisfying to see the next phase of Spectra's history unfold. We have made the bold decision to increase the size of our site in order to satisfy increased demand and we can't wait to see the new buildings in full production".
The company's ambitious expansion plans will increase Spectra's size by another 50 per cent, with the existing site growing an extra 24,000 sq. ft. to 80,000 sq. ft. in total. Spectra's long-term approach has also seen them make provision for three further units measuring 24,000 sq. ft. each to accommodate further future growth.
Joe sees the company's latest plans as a strong signal of intent for the packaging industry.
He commented, "Spectra are well placed as a genuine independent force within the industry. Making sure we have the capacity to continually provide outstanding quality, service and innovation is vital in maintaining our reputation. The fact that we have the trust of a number of leading high street brands is proof of our credentials to deliver and further expansion will help us maintain this".
Spectra's forward thinking ethos included making sure the company provided a number of in-house provisions. For example, the company's design and custom tooling departments along with a dedicated decoration unit have been highly successful with customers seeking an "under one roof" packaging solution. It's something Joe sees as a contributing factor to the firm's continued success.
"Providing a full in-house solution for customers has proved highly successful for us. It has meant we can offer consistently high levels of quality as well as total control over lead-times, it has also meant we can push the boundaries of innovation, developing new ways to give customers a leading edge solution. The expansion of the site will help us continue this whilst maintaining our independence".
More info: