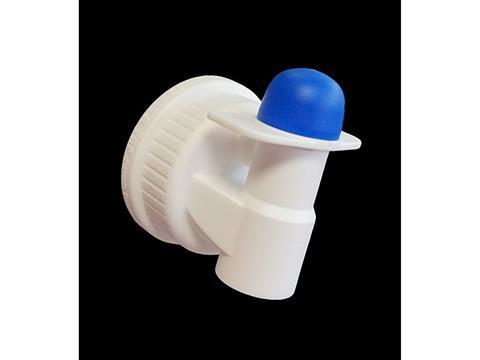 Smurfit Kappa's Vitop® company, a producer of Bag-in-Box® taps and connectors, has launched an innovative new tap for rigid tins and cans with high density products such as detergent, chemicals and oils.
The Delta tap, which holds a worldwide patent, has been designed to permit air to enter without requiring an extra air fitting and can be screwed on to rigid plastic packaging. Thanks to its inbuilt 'no return valve', the Delta tap prevents leakage.
If external pressure is applied to the rigid container during pouring, an inner ball shuts air entry and prevents liquid from escaping. A measuring cap can be placed on the Delta tap to avoid any additional product wastage. Furthermore, the Delta tap is spring-free, improving recyclability and the reduced number of components has made it more economical.
"This innovative new Delta Tap is another step forward for Vitop®. Its clever design can contribute to the overall improvement of a packaging design to better fit the customer's requirements," said Didier Pontcharraud, CEO of Vitop®.