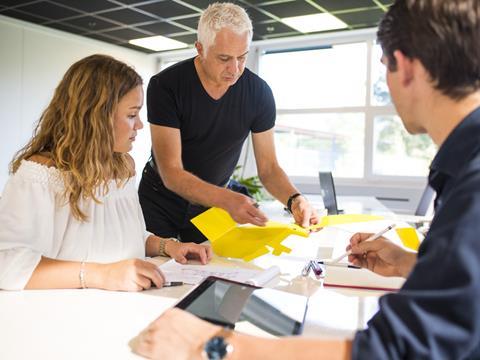 Leading by Example
These challenges invite creative thinking from many angles: there is no one solution. Below are two case studies of paper-based alternatives Smurfit Kappa's designers have recently developed in-house to address these issues.
Firstly, products with strong primary packaging such as plastic bottles are often packaged in shrink wrap to hold them together securely during transport and storage. Smurfit Kappa has developed a robust corrugated handhold for plastic olive oil bottles as an alternative to shrink wrap. In addition to the sustainability benefits, this highly visible handhold also provides a further branding opportunity.
To take another example, Segafredo Zanetti were packing their coffee bags in white corrugated trays with plastic shrink film, which were unstable during transport with poor in-store visibility. Smurfit Kappa developed a 100% recyclable, one-piece paper-based solution that enables the coffee to be transported securely and placed on the shelf in the same pack. Meanwhile, an eye-catching design with strong emotional appeal increases point-of-sale impact. Through reduced transport costs and faster packaging speeds, the new solution has delivered savings for Segafredo Zanetti, while significantly reducing its carbon footprint.
The Prize
Entries will be judged by an international panel of senior packaging experts from across Smurfit Kappa's business including paper, corrugated, recycling and sustainability. The winning designers for each challenge will receive a prize of €8000 and the winning packaging concepts will be showcased at Smurfit Kappa's Innovation event on 16th May 2019.
Register Today
To take part in the competition all participants must first register at smurfitkappa.com/designchallenge. The deadline for design submissions is 29th March 2019.
This content was sponsored by Smurfit Kappa.