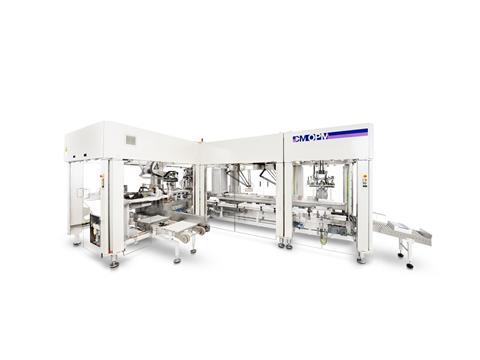 Also playing a lead role at FieraMilano, on the same stand as the parent company, Carle&Montanari-OPM and CM-FIMA, represented Sacmi's Food Division.
With over 110 years' experience in designing chocolate processing solutions, the two companies offer no less than five product lines which include machines for cocoa processing and the moulding, wrapping and primary/secondary packaging of chocolate.
At Ipack-Ima, Carle&Montanari-OPM displayed the innovative SmartCell packager, designed to streamline size changeover management. This cell consists of independent, complementary modules for fully automatic case forming and bundle preparation/insertion.
The first module – which prepares and forms the case – features fully automated size changeover; the size can be set via the operator interface without any need for manual adjustment as case dimensions vary. On the second module two pairs of conveyor belts and an equal number of fast pickers prepare the bundle.
The last module is equipped with a two-axis robot that picks the bundle when it is ready for insertion into the case; again, it features fully automated size changeover, controlled directly via the operator interface.
More info: