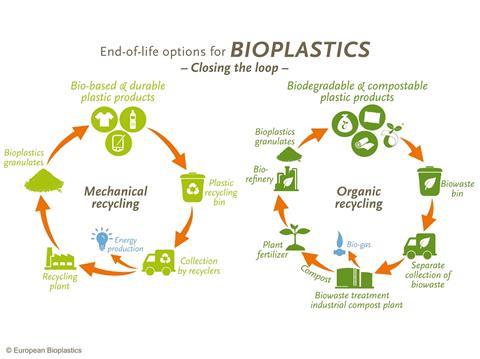 TS:
How does the industry articulate the environmental case for bioplastic packaging to brand owners and consumers as superior to alternative packaging materials? Do you need to address concerns that feedstocks may be diverted away from food applications? How does the overall carbon footprint of bioplastics compare with competing materials?
KS:
More and more companies are looking for innovative ways to meet the ever-increasing demand for sustainable plastic products and packaging without compromising on the quality and profitability of their products. Bio-based plastic packaging, for example, offers the same functionalities and technical characteristics as conventional plastic packaging but additionally has the unique ability to reduce greenhouse gas emissions and our dependency on fossil resources. At the same time, the bioplastics industry has invested heavily in the development of new, innovative materials with improved properties and higher functionality. This allows companies to not only improve their products and resource efficiency but also their environmental footprint. Substituting fossil-based plastics by bio-based plastics generally leads to a reduction of greenhouse gas emissions and the use of fossil resources.
Some companies interested in switching to bioplastics raise questions and potential concerns about the use of plant-based feedstocks and food crops for the production of bioplastics. These concerns are unfounded. The land needed to grow the feedstock for today's bioplastics production is around 0.02 per cent of the global agricultural area. A recent report by Wageningen UR finds that 'even if we base all present world-wide fossil plastics production on biomass as feedstock instead, the demand for feedstock would be in the order of five per cent of the total amount of biomass produced and harvested each year by mankind'. This estimation does not include the expected increased use of waste feedstocks as well as the development and improvement of agricultural practices for higher yields. The use of bio-based feedstocks for the production of bioplastics is by no means a competition for the production of food or feed.
TS:
How do you envisage the industry developing over the next five years?
KS:
I have no doubt that the industry will continue to grow driven by the increasing demand for sustainable products due to a growing awareness of society's impact on the environment as well as the continuous advancements and innovations in new materials and applications for bioplastics in packaging and beyond. One key area we will most likely see a lot of development in is a greater diversification of feedstocks used for the production of bioplastics. There are already quite a few companies and research organisations working with second and third generations of renewable feedstock. Especially biowaste will be a very interesting feedstock of the future. On-going research projects include creating bioplastics materials form coconut fibre, nut shells, tomato peel, crab shells, algae, and even cow dung. Moreover, NatureWorks just recently opened a research lab in Minnesota to develop and commercialise the fermentation process for transforming the greenhouse gas methane into lactic acid, the building block for PLA, one of the fastest growing bioplastics materials. The sky is the limit.