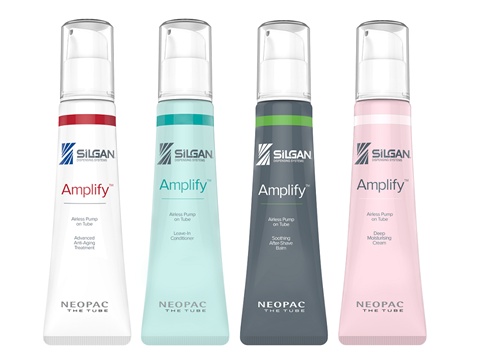 Silgan Dispensing Systems, a leading global supplier of highly engineered pumps and sprayers to major branded consumer goods product companies in the home, health and beauty markets, announced the launch of Amplify™, the company's new airless pump on tube designed in partnership with Neopac, a leading supplier of tube packaging to the worldwide pharmaceutical and cosmetics industries. This product along with the rest of Silgan Dispensing fragrance and skin care dispensing portfolio are focused on helping their customers find a better solution.
Amplify™ was developed with active, on-the-go customers in mind. Its PurePath™ airless pump-on-tube design allows for easy, hygienic and controlled dosing. The fact that it is airless and that the product does not come into contact with metal components means that the integrity of the formula will be protected. The specially designed dispenser allows customers to use virtually every drop of product – boasting an empty rate of 96 percent. Amplify™ has no metal components, making it a lightweight, ergonomic and cost-effective solution for cosmetic brands looking to offer a tube with a pump for a more sophisticated result than a tube with a traditional flip-top closure.
"Consumers increasingly expect brands to deliver products that can live up to their active lifestyle. Especially for cosmetic products, they are looking for an upgrade with practical and user-friendly dispensing solutions," said Sandy Gregory, associate marketing director for global beauty and fragrance at Silgan Dispensing Systems. "Amplify™ offers that simplicity and convenience, while demonstrating exceptional value through its controlled dispensing and near-flawless evacuation rate, creating a more premium experience that deepens consumers' connection to the brand."
This pump on tube design makes it an ideal packaging solution for a wide range of beauty segments such as, facial care, hair care, men's grooming and baby care, to name just a few. Amplify™ tubes are available in volumes of 15 to 50 ml and lengths of 60 to 160 mm and 25mm diameter as standard. It is designed for both co-extruded or PE tubes to capture brands' desired preference.
More info: