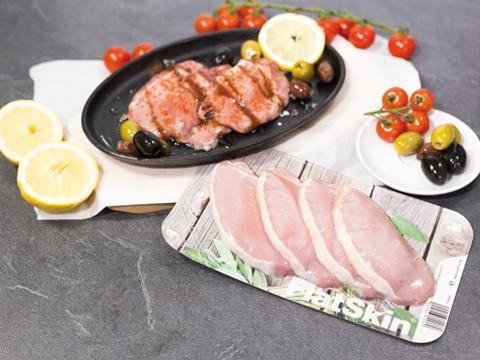 One single machine that is flexible in application and offers short changeover times: SEALPAC, a manufacturer of high-tech traysealers and thermoformers, presented the all-in-one SEALPAC A7 traysealer at Anuga FoodTec2018.
Next to the common MAP and TraySkin® systems, this piece of equipment reliably handles the newly developed FlatSkin® packaging solution that combines attractive product presentation with increased sustainability through optimized recyclability.
One traysealer – multiple applications
The all-in-one SEALPAC A7 traysealer represents maximum flexibility in fully automated food packaging. Equipped with servo technology, this traysealer is suitable for a wide product range whilst achieving outputs of up to 100 packs per minute (depending on the application). The SEALPAC A7 reliably processes all sealable materials at highest production standards and without quality fluctuations.
SEALPAC's unique tooling quick exchange system with patented tooling trolley allows the operator to switch between different packaging systems with minimum downtime.
Plastic reduction withFlatSkin®
In Cologne, SEALPAC ran its brand-new FlatSkin® solution on the A7 traysealer. This innovative solution combines the sought-after skin packaging process, which provides extended shelf life and attractive product presentation, with a plastic reduction of up to 75%. As such, the FlatSkin® system addresses the industry's strong demand for increased sustainability. Instead of common plastic trays, the FlatSkin® system uses cardboard carriers. Ahighly transparent barrier skin film fixates the product directly onto the flat cardboard carrier, which has been coated with a polymeric protective layer. This layer provides stability to the cardboard and forms a reliable barrier against grease, moisture and oxygen. After taking out the product, the thin polymeric layer is easily removed from the cardboard to allow for separate disposal. The carrier allows for double-sided printing, hence offering optimal space for product information whilst providing branding opportunities. Some manufacturers may even dispose of their traditionalcardboard sleeve.
FlatSkin® packs can be presented vertically (e.g. hanging or standing), making them true eye-catchers at retail. In addition, the flat product carrier and tight-fitting skin film provide an attractive 3D effect that highlights the content tothe fullest. It is available on all of SEALPAC's A-series traysealers with FlatSkin® preparation.
The A7 traysealer comes with all features that are typical to the SEALPAC A-series. As an example, reliable tray transport is achieved with various innovative conveyor systems. Furthermore, the A7 is equipped with servo-driven film transport that can be operated from both sides. Its variable sealing pressure that can be adjusted to the application and tray material, as well as the exceptional clamping force of its tooling, will always provide a reliable seal for optimal product safety. SEALPAC's exclusive InsideCut system, which cuts and seals the top film within the edges of the tray,provides an outstanding presentation. The SEALPAC A7 traysealer is also easily integrated into existing food processing lines.
More info: