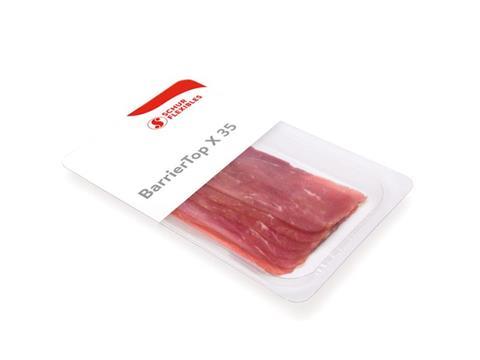 BarrierTop X 35 is the latest high-barrier film from Schur Flexibles Flexofol GmbH. At 35µm thickness, BarrierTop X 35 is currently the thinnest film available on the market and provides material savings and high all-round performance.
Moreover, its transparency enables good point-of-sale presentation, making it ideal for high-barrier applications such as chilled foods, cooked meats, sausages, cheese, fish and dry foods.
Secure packaging, attractive appearance
BarrierTop X 35 has an excellent oxygen and aroma barrier and comes with optional anti-fog properties. The ultra-thin film has a PE sealing layer which ensures sealing quality and, despite minimum film thickness, it guarantees product safety due to its high mechanical strength. The film reliably seals all CAP/MAP applications as well as preformed trays, and can be used for vertical and horizontal flow wrap applications. The highly transparent material is printable in flexography and rotogravure in up to 11 colours with reverse or surface options. It can be further enhanced by using high quality print effects such as matt, gloss and paper touch. This is ideal for highlighting product qualities, giving them a competitive edge at the point-of-sale.
Improved efficiency and sustainability for the entire packaging process
The ultra-thin BarrierTop X 35 is cost-effective. It leads to less packaging waste, and, due to an increased number of linear metres per reel, there is a reduction in reel changes during the packaging process. In addition, it enables higher packing rates through optimised sealing media. Thus BarrierTop X 35 improves efficiency and sustainability during the packaging process without compromising product safety. This results in added value for both manufacturer and consumer all the way down the line.