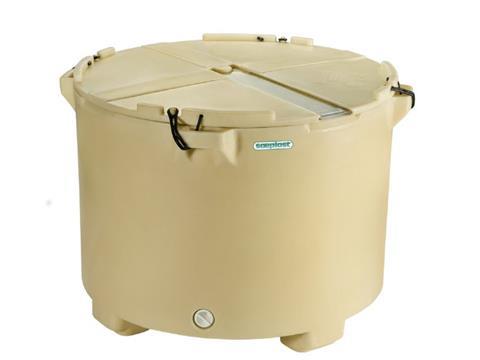 RPC Sæplast is introducing a range of round storage containers into the European and American markets that combine easy handling with optimum product quality during processing.
Initially developed in cooperation with the company's customers in Asia, the new round tubs, available in 600 and 660 litre sizes, represent a departure from the more traditional insulated container design, while still offering effective protection and ease of use for a wide range of food products, in particular shrimp, tilapia and squid production.
The roto moulded double-layered container, made from food-grade polypropylene, offers excellent hygiene and outstanding product protection. The tough exterior and robust construction ensure long-term durability and easy washdown.
At the same time, the rounded contours are particularly suitable to enable even stirring of products, while the double insulation allows stable temperatures to be maintained during soaking. In addition, the round design reduces ice consumption.
The tubs are manufactured in FDA/USDA and EU approved material, are inter-stackable up to three high, and easy to handle with a pallet jack or forklift. As with all Sæplast containers, they can be personalised with customer logos and specified with a variety of tracking options including barcode, QR code and RFID technology.
More info: