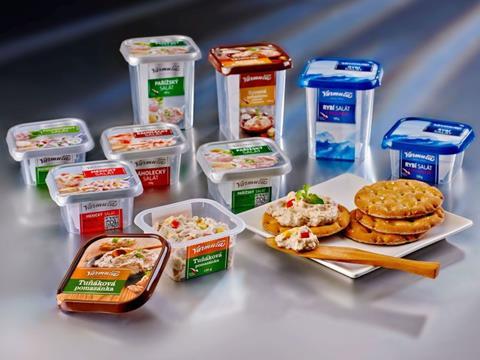 An innovative, bespoke pot from RPC Superfos is helping a Czech food company attract and connect with customers. The eye-catching and convenient solution for Delimax's Varmuza salad and delicatessen range features a QR-code on the side, enabling customers to learn more about these premium products and the company.
The Varmuza range from Delimax is on the shelf in two sizes – 210ml and 480ml – of the injection moulded pot from RPC Superfos. Each variety makes use of the In-Mould Labelling technique to present an attractive family image, and allows consumers to learn about the Delimax product range, history and ingredients by scanning the QR code with their smartphones.
Another key feature is its strong, user-friendly snap-on lid, with an indent that adds both convenience and distinctive character to the pack.
The pot is the result of market research by Delimax, a long-time collaborator with RPC Superfos.
"We know that our customers appreciate everyday convenience, and this is exactly what our new pack offers them," explains Petr Grabec of Delimax. "Moreover, we strive to strengthen our relations with our customers through transparent communication and, from my point of view, we are successful in both fields through our new pack from RPC Superfos."
The Varmuza salad and delicatessen range is available in retail shops and supermarkets across the Czech Republic, where Delimax is the number one food producer.
More info: