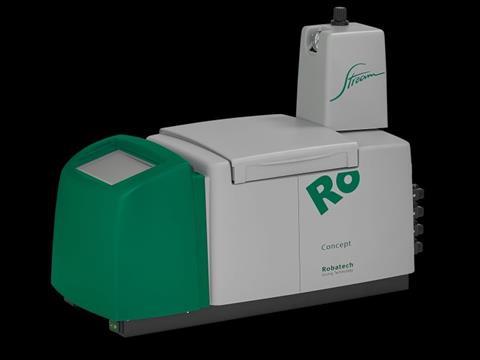 Robatech presents larger model in the Concept Stream series: The newly developed Model M complements the existing Concept Stream series with higher melting performance.
Concept Stream M is the new solution from Robatech. It's the big brother of the Concept Stream S, launched last year with great success. Presented for the first time at interpack 2017 in Düsseldorf, the Concept Stream M attracted a great deal of interest. The possibility of a higher melting rate differentiates it from the familiar S model. But the basis is the same: innovative GreenLine technology for an energy-efficient, safe gluing process. Here, too, the higher melting performance in comparison with the small tank is quite attractive. The 4.5 liter tank volume makes it possible to melt and convey 15 kg of adhesive per hour.
Innovative higher melting performance
Designed for high melting performance (15 kg/h), the Concept Stream M is equipped with an innovative high-performance tank. The familiar Melt-on-Demand technology still ensures the provision of adhesive as needed.
Faster, more efficient gluing process
Rapid availability is the decisive feature of both models. The fast heat-up time of 16 minutes to 160 °C and the standby function can also be achieved with the larger model M, and the fill level supervision with unique run empty protection stops the system, before no adhesive can be applied anymore. The CoolTouch insulation on the tank and manifold also allows energy savings of over 20% in comparison with the standard Concept series.
Highest operator safety
The standard CoolTouch insulation increases operator safety, also guaranteeing protection from burns when filling the hot melt adhesive system. To increase operator safety even further, the melter can optionally be configured with or upgraded to the RobaFeed3 granulate feeder for automatic filling.
The new Concept Stream M melter, just like the smaller version, offers quick system integration and a flexible gluing process. Both versions guarantee top efficiency, flexibility, and safety during adhesive application. Now with an even greater volume, adapted to customer requests, the Concept Stream M is a new highlight in the Concept Stream series. Presented for the first time at interpack 2017, it is available today worldwide.
More info: