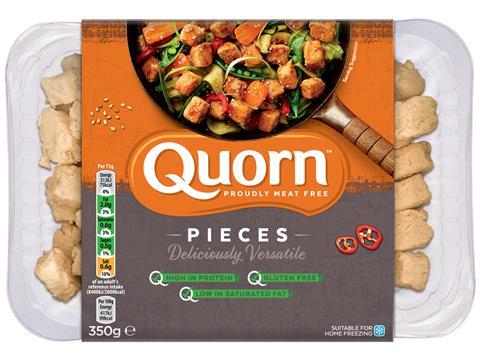 Quorn products boast a significantly lower environmental footprint than their carnivorous counterparts. For instance, Quorn Mince accounts for 90 per cent less GHG emissions, 90 per cent less land usage and 90 per cent less water usage than its beef mince equivalent. The brand, which is exported globally to 20 different markets, is aiming to phase out the remainder of black plastics in its Deli range (which accounts for approximately 10 per cent of all chilled products) before the end of 2018 and is currently in late-stage discussions and testing with suppliers to ensure this process takes place smoothly and swiftly.
The packaging dimension of sustainability policies have drawn on industry-wide initiatives. "We are signatories to WRAP," Ester Takacs said. "Quorn Foods is also a founding signatory to the UK Plastics Pact, working collaboratively towards a circular economy for plastics, with targets including 100 per cent of plastic packaging to be reusable, recyclable or compostable by 2025. A more detailed Quorn Foods Packaging Sustainability Strategy is currently being drawn up for release in July, with a challenging yet realistic set of targets and ambitions for 2022."
Quorn Foods CEO, Kevin Brennan commented: "We are very excited to announce this positive change towards increased sustainability of our products. Moving so quickly to remove black plastic is a significant challenge, but one that, as a sustainable company, we view as being of the utmost importance. We view this as the right thing to do, despite the six-figure cost.
"Our customers will be able to continue enjoying Quorn as part of a balanced and healthy diet, knowing that we are committed to reducing all forms of food waste in our supply chain and to promoting and advancing sustainability without passing the cost onto consumers."