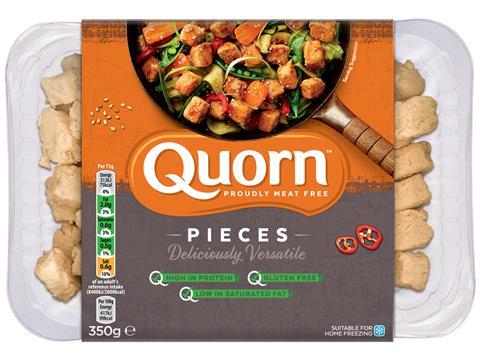 The fast-growing meat substitute brand Quorn™ today announces its acts to remove black plastic from packaging, which will eliminate an estimated 297 tonnes of non-recyclable plastic from its supply chain. The step is in line with the Plastic Pact commitment to achieve 100 per cent recyclable, reusable or compostable packaging by 2025 and anticipating Quorn's own forthcoming 2022 goals.
With the April 2017 WRAP announcement that black plastic was not being recycled by UK local authorities and instead being sent to landfill, the company's packaging strategy group met to formulate a plan to remove black plastic from its supply chain as quickly as possible. In response, since April 2018 black plastic has been phased out of the majority of Quorn packaging, including some of its bestselling products such as chilled Quorn Mince and Pieces. In June 2018 in-store packaging of the vast majority of the chilled range will move to white and opaque recyclable plastics - a change that accounts for the headline elimination of 297 tonnes of black plastic with recyclable alternatives.
"The move out of black plastic for Quorn Foods has involved some relatively easy wins and more challenging requirements," Ester Takacs, head of packaging development at Quorn Foods, told Packaging Europe. "As an example, products in the ready meal range and those products that perform best when cooked in the oven have remained in dual ovenable CPET - but moved to white. Those that perform well in the microwave have been moved to natural PP. This protocol is now embedded in all such NPD going forwards, in the UK and internationally. Trials, including production, shelf life and aesthetics were conducted on key, representative items, before the final moves were made."
Ester indicated that work on other Quorn ranges is ongoing. "In chilled Deli we are aiming to move from a black laminate base and printed top web to a mono clear base web and single material printed top web, making the whole pack recyclable," she revealed. "We are hoping to launch this new pack by the end of 2018. This move is much more technically challenging due to the significant change in materials we are forming and sealing in the factory."
Quorn Foods aspires to establish itself as a leader in sustainable nutrition and claims that this is one of the first significant efforts by a major food brand towards eventually elimination of black plastic from its supply chain. The brand owner regards sustainability as a core value, exemplified by its different approach to producing foods. Using a vegetarian protein source, Quorn positions itself at the forefront of diversifying the modern diet, while improving the wellbeing of the environment and creating more sustainable solutions for food security.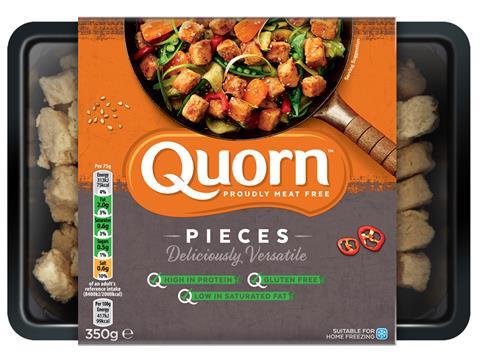 Quorn products boast a significantly lower environmental footprint than their carnivorous counterparts. For instance, Quorn Mince accounts for 90 per cent less GHG emissions, 90 per cent less land usage and 90 per cent less water usage than its beef mince equivalent. The brand, which is exported globally to 20 different markets, is aiming to phase out the remainder of black plastics in its Deli range (which accounts for approximately 10 per cent of all chilled products) before the end of 2018 and is currently in late-stage discussions and testing with suppliers to ensure this process takes place smoothly and swiftly.
The packaging dimension of sustainability policies have drawn on industry-wide initiatives. "We are signatories to WRAP," Ester Takacs said. "Quorn Foods is also a founding signatory to the UK Plastics Pact, working collaboratively towards a circular economy for plastics, with targets including 100 per cent of plastic packaging to be reusable, recyclable or compostable by 2025. A more detailed Quorn Foods Packaging Sustainability Strategy is currently being drawn up for release in July, with a challenging yet realistic set of targets and ambitions for 2022."
Quorn Foods CEO, Kevin Brennan commented: "We are very excited to announce this positive change towards increased sustainability of our products. Moving so quickly to remove black plastic is a significant challenge, but one that, as a sustainable company, we view as being of the utmost importance. We view this as the right thing to do, despite the six-figure cost.
"Our customers will be able to continue enjoying Quorn as part of a balanced and healthy diet, knowing that we are committed to reducing all forms of food waste in our supply chain and to promoting and advancing sustainability without passing the cost onto consumers."