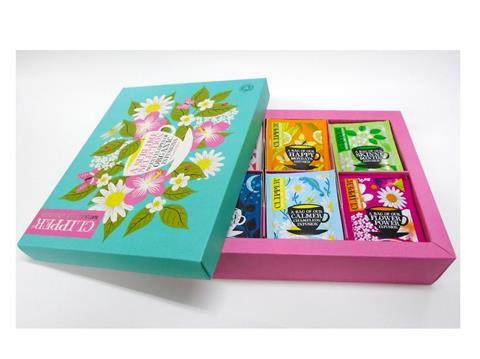 Leading print & packaging firm, Qualvis, has created a variety pack of infusions for organic and Fairtrade tea company, Clipper. Initially produced as a limited edition, the gift box holds a selection of 6 flavour varieties in separate compartments with each containing 10 infusion envelopes.
Originally conceived as a rigid box design, Qualvis instead opted for a lid and block wall base construction that could still provide a premium gift feel to the pack. With the pack being a flat folding construction it was fully able to optimise the supply chain process, whilst ensuring that Clipper could maintain their on-brand consistency.
To separate the six varieties and to hold the infusion envelopes securely in place, a vacuum formed insert was considered, although this idea was discounted as the addition of a 'plastic' element did not reflect Clipper's organic ethos. As an alternative, Qualvis designed an innovative carton board insert. This carton construction was formed out of a single piece of board and could be packed at high speed. The fitment was developed to be double-carton thickness to minimise any odour migration of the different tea varieties within the box set.
At retail, the initial limited print run of 10k units sold out. Looking to increase growth in this category, Clipper has since turned this into a regular production.
Qualvis' creative director, Richard Pacey, said: "We have a fantastic working relationship with Clipper, which is largely built on trust. We turn their ideas in reality, whilst ensuring that we adhere strictly to their sustainability messages and stringent ethical brand values. The result in this case is great looking gift box that is both supply chain efficient and fully recyclable."
Based in Leicester, Qualvis Print & Packaging specialise in high-end print and packaging for the food, cosmetic, multimedia, horticulture and DIY/household markets. Their customers include Marks & Spencer, Waitrose, Sainsbury's, Clipper Teas, Maldon Salt, John Frieda and other leading brands.
More info: