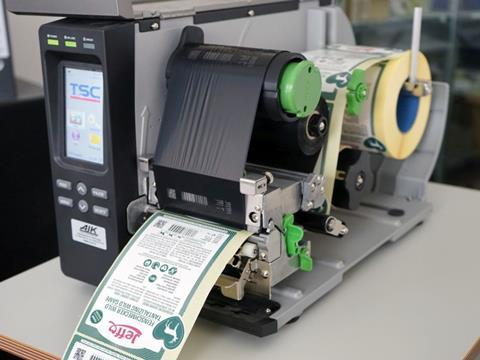 Jeffo GmbH & Co. KG is one of the leading premium manufacturers for pet treats and snacks in Germany. So far, the labels, delivery notes, invoices and stickers have mainly been printed with laser printers of different manufacturers. The expansion of Jeffo's product range, increasing international activities and the request for professional, individual marking combined with high flexibility finally led to TSC Auto ID and its thermotransfer industrial printer model TTP-346MT.
In 2004, Jeff Simpson founded Jeffo's Homemade Goodies in his own living room. His business quickly developed from a small or tiny craft work-shop to a successful, internationally operating company with the name Jeffo GmbH & Co. KG. The company specializes in healthy treats and snacks for dogs, cats, horses and small animals. Since 2007 these goodies come from Jeff's own production plant with integrated logistics center in Markt Schwaben. More and more, Jeffo is increasingly supplying the European market with a variety of high-quality products.
Handmade in Bavaria
"From preparing the ingredients to mixing the dough, cutting out with our exclusively designed molds and finally to the gentle baking process every step of the production process is exclusively done by hand" confirms company founder and managing director Jeff Simpson. He still develops every recipe and also the right shape for his unusual dog biscuits and cakes. The product range includes hard-baked organic cookies for the extra of dental care from controlled organic cultivation, high-quality classic products such as snacks for on the go or playful lolly pops with integrated chewing gum, vacuumed superb cakes in a jar or seasonal extras such as minikurbis for Halloween, kicker football leckerlis, pink biscuit eggs for Easter or blue-white hearts for the Munich Beer Festival.
The master baker exclusively uses regional, finest and genuine ingredients in organic or premium quality for the production process, without sugar and salt, flavor enhancers, colorings or preservatives. The cakes and snacks are baked at low temperatures in order to preserve the original taste and the valuable ingredients. After cooling down, the products are immediately packed into aroma sealed packings and delivered to Jeffo's logistics center. All the goods as well as the production and packaging process are subject to the strictest internal and external controls. At regular intervals the results of these controls are checked by an independent, accredited laboratory. All treats meet the strict requirements of veterinary recommendations.
Complicated labeling by hand
"For more than 200 different products, formerly we used preprinted cartons and packings as well as stickers for the goods that are packed in bags. But the final printing significantly reduced our flexibility. It was hardly possible to carry out quick changes or to apply additional information", Jeff Simpson explains the starting situation. In addition, the process was altogether cum-bersome by using a hand-held labeller for printing the most important prod-uct information such as batch number and the minimum shelf life data. Another factor that rendered the situation more complicated was that an in-creasing number of language versions are required for selling the products in different European countries and, in addition, seasonal actions were also stepped up. "At Easter or Christmas, for example, we customized labels by laser printers and applied them onto the packs. But print quality, contrast and even toner-lubrication effects definitely no longer corresponded to Jef-fo's brand and standards of quality. But animal lovers really expect high and constant quality with no compromises", the company manager adds.
TSC Auto ID convinces in the selection process
In parallel with the introduction of the "Heartline" (treats, snacks and nutri-tious food), a new print solution was sought. Jeff Simpson and his colleagues discussed in detail the entire product labeling process, and recent and future requirements. Then they obtained some offers from different providers and selected TSCs reliable industrial printer model TTP-346MT. "One reason was that the Taiwanese manufacturer comprehensively was able to answer all our questions in an intensive consultation process with live demonstration. Another attractive argument for this smart choice was top-quality workmanship and the printer's user-friendly touch displays." Furthermore the high-performance industrial printer model flexibly can be used as a stand-alone solution in the factory. And finally, the regional proximity to the German service branch was also decisive as well as the outstanding after-sales support provided by TSC itself and AJK Etiketten- und Bar-codesysteme GmbH. TSCs regional partner, located in Langen, configured the printer according to Jeffo's requirements and is supplying all consuma-bles just in time, now and in the future.
The robust thermal transfer printers is used primarily for new product mark-ing with the striking brand logo including a heart. The adhesive labels attached to the back of the packages contain product information, ingredients, weight, batch number, minimum shelf life data, EAN and QR codes. The scanable, two-dimensional QR code informs directly at the POS via smartphone about further product details and also allows the downloading of explanatory videos by consumers.Jeffo uses two different label types: white unprinted blank labels, which are produced individually for Jeffo and, in addition, four-color labels, which can be printed with specific product information by Jeffo's employees.
Excellent print quality, user-friendly touch panel
TSCs TTP-346MT is part of the new but already improved TTP-2410MT series. The model impresses with the best print quality that the Taiwanese manufacturer has ever achieved with a midrange model. Thanks to TSC's innovative Thermal SmartControl™, it is possible to track accurately the status of each individual pixel and calculate the best time to produce accu-rate printed and clearly readable labels. In the sum the company founder was already "delighted and enthusiastic about the printer's features and per-formance."
Printing speeds of up to 254 mm per second (10 ips), 300 dpi print resolu-tion, a powerful processor and enormous 128 MB Flash memory and 128 MB SDRAM memory are standard features as well as internal Ethernet, USB 2.0, USB host and serial interfaces. The contrast-colored 4.3" LCD touch panel with six button control is also particularly impressive. The user-friendly model can thus be operated intuitively and easily, and print status can be conveniently retrieved. Jeff Simpson adds: "We are focused on ma-terial handling including labels and ribbons as well as material costs as an important factor. But after testing thermal transfer printing we were really surprised because we anticipated higher costs."
With its rigid, full die-cast aluminum frame designed to last in tough environments TTP-346MT supports a large 8.2 inch outer diameter label roll and up to 600 meter ribbon capacity for high volume printing. Its powerful TSPL-EZ™ firmware, which features an integrated, automatic Zebra™ and El-tron™ speech emulation, also has a positive effect. It can easily be integrat-ed into the existing IT structure and supports common applications such as Oracle, SAP, Unix or AS/400. As standard, the printer is also equipped with a basic label software. "With this software package provided by TSC, and the the printers network capability, every department at our company is able to design and print labels independently and quickly on the basis of our ready-to-use CI standard templates", Jeff Simpson is very pleased.
A printer - flexibly used for all printing requirements
As a matter of fact, more and more printing requirements are becoming more and more important because the printer model can be used flexibly for a variety of tasks. Now the versatile TTP-346MT is used for printing ad-dress labels, shipping/receiving labels, product labels, commission notes, labels for secondary packagings and also labels for outgoing pallets.
The labels not only contain important information for retailers and consumers, but also ensure traceability throughout the entire process chain. "But the most important thing is", Jeff Simpson added, "that the quality is 100 % and our products are well received by our four-legged friends. Lilly, our office dog, is an enthusiastic and envious taster of every new creation."
More info: