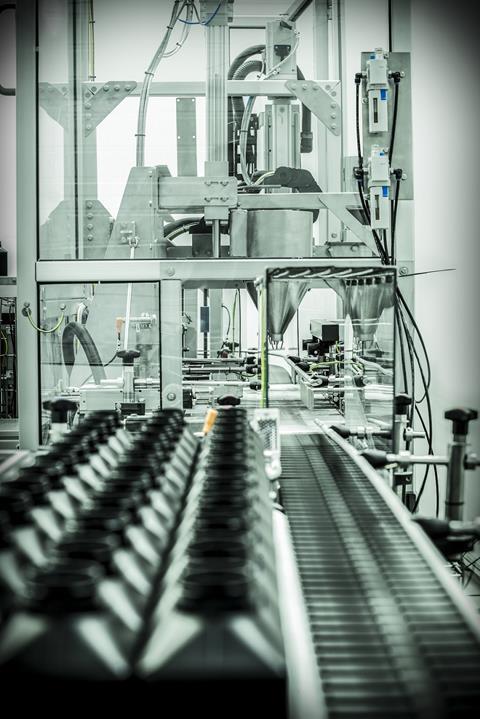 Recipe for success
Servicepoint's services offer companies huge possibilities to improve productivity alongside their serialisation needs.
"Serialisation affects production equipment through validation needs. With our services, there is possibility to decrease costly downtime. New machinery validation can be done 'offline' with serialisation equipment," Mr Jantunen says.
Testing is performed at Servicepoint's site in order to make life easier for customers.
"We test the constructed automation line at our premises (Factory Acceptance Test, FAT) to weed out possible problems before transferring the line to the customer's site. This shortens the production downtime required for installation," Mr Jantunen adds.
Furthermore, Servicepoint offers its services for a variety of set ups. "In addition to manual or semi-manual workstations, we can build a fully automatic robotised packaging cell, which prints and labels each individual package, bundles, boxes and pallets, validates each printed result with machine vision (camera + software) against the server data, automatically rejects all substandard prints and packages, automatically aggregates packages, bundles, boxes and pallets according to customer specification, while at all times controlling and managing the entire packaging and serialisation process," Mr Jantunen is happy to report.
Working with reliable partners
Thanks to its partnership with Systech International, a global technology leader in product safety and consumer and brand protection, Servicepoint can offer Systech serialisation with implementation to existing packaging equipment. Mr. Jantunen describes the reasons behind the cooperation: "Systech provides the best software for serialisation, but they also need integrators to do work on production lines. We have a happy, symbiotic partnership."
Mr Jantunen is also keen to point out that, thanks to Servicepoint's history in maintenance, the company is able to work with several types of equipment and is therefore able to work with whatever devices a customer has.
"We are not stuck with just one machine or brand, but of course we have preferred partners, such as KUKA Robotics, Festo and Siemens."
From Finland to Europe
Servicepoint mostly does business with companies in Finland, but has also worked on several projects with companies in the EU and in Russia, and demand is increasing also due to increasingly stringent regulations in the pharmaceutical industry.
Servicepoint's approach means it is well positioned in the marketplace, as Mr Jantunen explains. "There are a lot of software providers for serialisation, and hardware providers. A company like us is needed to integrate the software and hardware to the production line. We have extensive experience in the pharmaceutical sector, which has particularly high standards to contend with, so compliance and validation is important."
This experience in the pharmaceutical comes in useful to guarantee high quality for other industries as well.
have also worked with companies in the food and beverage industries, and even worked with explosives, which of course have particularly strict regulations. We are able to cope with many demanding regulations and requirements," he concludes.
Visit: www.servicepoint.fi