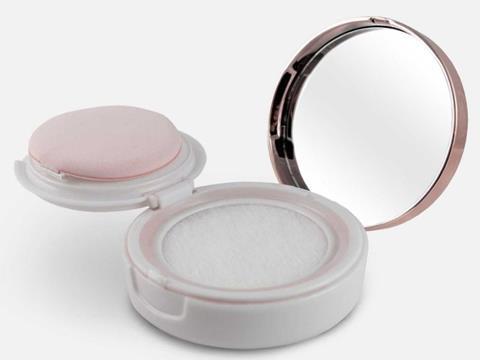 Porex Corporation ("POREX®") will offer an exclusive first look at a new cushion compact innovation for cosmetics brands at Cosmoprof Bologna this March.
The new POREX® Fiber Cushion revolutionizes the consumer experience with liquid-based formulations like foundation or concealer packaged within pocket-sized, on-the-go makeup products.
The new patent-pending POREX® Fiber Cushion is a gradient fiber reservoir that addresses product dosage challenges typically associated with standard foam cushions used in existing makeup products. The technology deploys capillary action to pull liquid formula from the bottom of pads to the surface in a measured, consistent manner. A touch-driven response then ensures the cushion disperses a uniform amount of product each time it is compressed.The POREX® Fiber Cushion prevents leakage and product waste and eliminates problems that consumers typically experience when products do not fully dispense, dispense unevenly, or fail to dispense at all. POREX®'s innovative technology offers a new level of flexibility and product performance that enhances consumer interactions with their favorite cosmetic brands.
While foam pads typically resemble an ink pad or sponge, the POREX® Fiber Cushion offers an aesthetically pleasing appearance that can be tailored to the look and feel a brand desires. The cushion's chemically stable fiber construction is also durable enough for a range of formulas including solvents, oils and water-based products.
This new solution will be displayed at the Cosmopack Bologna venue of Cosmoprof Bologna (BolognaFiere, Hall 20, Booth #E49, March 15-18). Rusty Martin, Global Strategic Marketing Director Consumer and Industrial Segments at POREX®, will also provide insight on the innovation during a CosmoTalks panel discussion, "Packaging & Innovations in 2025," which takes place Saturday, March 17, from 2:30 p.m. – 3:15 p.m. The event takes place in the Service Centre located on the ground floor and is free for badge holders but requires pre-registration.
The debut of the POREX® Fiber Cushion follows the March 2017 acquisition of Porous Technologies, through which POREX® has expanded its portfolio of products and capabilities. This unmatched level of expertise leverages a diverse range of materials, technologies and applications to optimize cosmetics designs for precise formula application, product performance and end-user experience.
"On-the-go cosmetics products are experiencing rapid growth to meet fast-paced consumer lifestyles, but the standard cushion compacts on the market do not live up to the expectations of makeup users or cosmetics brands," says Martin. "The new POREX® Fiber Cushion ensures that brands can offer portable versions of their liquid-based products while upholding the performance their customers have grown to expect. This technology changes the face of makeup application."At Cosmoprof Bologna, POREX® will also showcase at its booth latex-free, super-soft foams that are ideal for a wide variety of cosmetic and personal care products. POREX® will also feature innovative applicators and reservoirs that are engineered for the precise affinity of liquid makeup. Also on display will be Nubiform®, a porous, flexible elastomer for applicators used with foundation, concealer, liquid eyeliner, lip stain and eyeshadow products with optional antimicrobial protection.
More info: