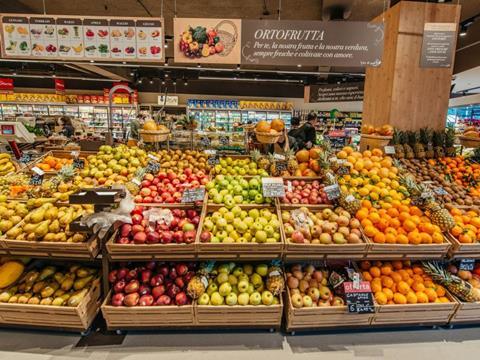 As competition in the grocery retail sector continues to intensify, grocery retailers are looking to create stores that exceed shopper expectations for freshness and convenience, value pricing, healthy eating choices and locally sourced products.
For its part, Carrefour continues to position itself for the future with the launch of its two newest retail formats, Market Attrazione 2.0 and Express 3 Minuti. The leading international merchant tapped the Marketplace crate from Polymer Logistics for deployment in both new outlets.
The first Market Attrazione 2.0 location recently opened in Pomezia in the Lazio region of Italy. At a size of almost 27,000 square feet, it offers more than 16,000 SKUs and is open 24/7. The emphasis of Market Attrazione 2.0 is on low pricing, including fixed low prices, as well as convenience. It also has a strong focus on healthy eating and local products, including a dedicated 640 square foot Bio area that offers organic, gluten-free, vegetarian and vegan products. The store lists more than 1,000 locally sourced items, and the format also features perfume, seasonal non-food and textile departments.
Meanwhile, Carrefour has also launched its first Carrefour Express 3 Minuti in Genova. This 1,700-square foot store celebrates freshness and convenience in a small format setting, including a quick and easy customer experience. Shopping is made easy thanks to the organisation of products by area, including the featured fruit and vegetable section. Express 3 Minuti also offers tasty breakfasts, quick lunch options, as well as ready-made dinner selections. Other services include digital photo processing, free wi-fi, tickets, phone charging station, gift cards, ATM, bill payment and more.
Thanks to its attractive, wood-look exterior, the Marketplace crate evokes a farm-fresh ambience that has proven to help boost sales in all formats. The durable, standardised containers from Polymer Logistics also contribute to reducing both product loss as well as supply chain logistical costs, thus enabling retailers to compete successfully in both convenience and value pricing environments alike.
Gian Paolo Mezzanotte, Managing Director at Polymer Logistics, said: "We are delighted to support Carrefour's development of innovative store formats with the Marketplace crate. Its acceptance at Market Attrazione 2.0 and Carrefour Express 3 Minuti stores demonstrates how the Marketplace crate can play a crucial role in helping retailers deliver on their vision for the future."
More info: