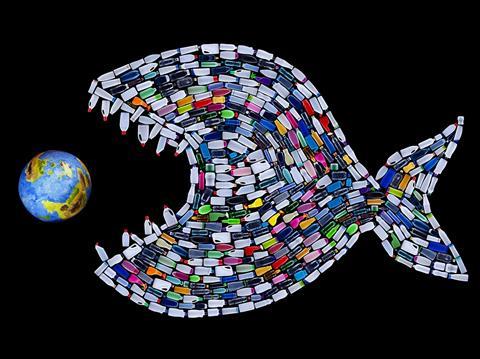 In 2017, Unilever made an industry leading commitment to ensure that all its plastic packaging will be designed to be fully reusable, recyclable or compostable by 2025. To help create an end market for this material, the company also committed to increase the recycled plastic content in its packaging to at least 25 per cent by 2025. These targets are driving real change in the business – in particular how packaging is designed for recyclability and reuse.
Packaging Europe delves into the strategy Unilever is taking to achieve its goals- collaborative agreements on emerging technologies, pinpointing critical locations to implement change whilst also engaging on a global level, and critically defining a framework for future innovation.
The collaborative model
In October 2018, Unilever and Veolia signed a collaboration agreement to help create a circular economy on plastics across various geographies, starting in India and Indonesia.
The work will focus on material collection, which will help channel recycled content back into the value chain. Veolia will work with Unilever to implement used packaging collection solutions, add recycling capacity and develop new processes and business models through this partnership in various countries.
Marc Engel, Unilever's Chief Supply Chain Officer, commented: "The scale of the plastic waste issue is getting worse, not better, with the production of plastics expected to double over the next two decades. We all have a lot more to do to address this critical issue and we hope that by partnering with Veolia, a world leader in waste management, we can take meaningful strides towards a circular economy."
Laurent Auguste, Senior Executive Vice-President of Veolia for Development, Innovation and Markets, commented: "There is an undeniable need to transform the current way plastic packaging end of life is managed in order to reduce significantly its environmental footprint. It will take a collaboration of a new kind between all the actors of the value chain. With this global partnership, Veolia and Unilever join forces in various geographies around the globe and, from the collection to the recycling, take a leadership role to redefine a responsible and sustainable future for packaging."
A critical location
In India, Unilever is in early stages of conducting multiple pilots to identify solutions which could help improve the effectiveness of existing collection systems.
Veolia and Unilever have also agreed to jointly evaluate effective recycling systems which would enable recycling of this plastic waste. The goal is to create a circular economy on plastics and stop any leakage into the environment.
The challenge in creating a circular economy for plastics starts with collection, particularly of flexibles. Here Veolia and Hindustan Unilever (HUL) are collaborating to conduct multiple pilots to identify solutions which could help improve the effectiveness of existing collection systems.
"We're starting in India and Indonesia where the issue of plastic pollution is particularly acute, and therefore where we have the greatest opportunity to improve waste management and recycling infrastructure. Indonesia is the second largest country producing plastic waste ending up in the ocean," states a Unilever spokesperson.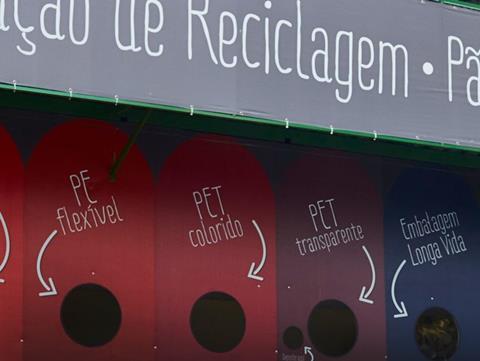 Broader global effort
This partnership is part of a broader global effort by Unilever to shift its global portfolio of packaging to be 100 per cent reusable, recyclable or compostable by 2025. It has also committed to using at least 25 per cent recycled content (PCR) in our plastic packaging by 2025.
To meet these commitments, Unilever has adopted an internal framework which shapes its thinking and future innovation around three key focuses: Less plastic- such as with injection compression technology which saved 21 tonnes of plastic in 2017, better plastic- eliminating problematic/unnecessary plastics, using recyclable materials and more recycled content, and no plastic E.g. biodegradable PG tips teabags launched in the UK earlier this year.
"However, in order to reach our targets, aside from product design innovation we also need to address challenges of low availability and quality of PCR on the market. That's why we're also developing other emerging technologies," says a Unilever spokesperson.
For example, it has partnered with start-up company Ioniqa and the largest global producer of PET resin Indorama Ventures to pioneer a new technology, which converts PET waste back into virgin grade material for use in food packaging.
This technology has already been used to create new Hellmann's mayonnaise bottles. If proven successful at industrial scale, in future it will be possible to convert all PET back into high quality, food-grade packaging.
Unilever believes that this fully circular solution could lead to an industry transformation, since it can be repeated infinitely.
Testing emerging technologies
Unilever is also trialling a ground-breaking new CreaSolv® Sachet recycling technology to recycle plastic sachets. Billions of sachets are sold every year, particularly in developing markets. They're an efficient way of reaching low-income consumers with products that would otherwise be unaffordable to them. However, without a recycling solution, sachets end up in landfill, waterways or the ocean. Unilever hopes that CreaSolv® will transform sachets from a global problem into a sustainable economic opportunity.
To recycle plastic sachets using CreaSolv® technology the company needs to work with municipalities and retailers to set up waste collection schemes so that the sachets to be recycled. For example, in Indonesia it has helped communities to develop over 2600 Community Waste Banks in 18 cities where they can collect inorganic waste and sell it based on its value, ultimately reducing the amount of waste sent to landfill.
For the moment materials feeding the CreaSolv® plant are sourced from the Community Waste Banks. Making it technically possible for all its plastic packaging to be reused or recycled is part of the solution. However, Unilever also needs to demonstrate established, proven examples of it being commercially viable for re-processors to recycle the material.
"We are making good progress and continue to iron out any issues linked to the technical and commercial viability. For instance, we have learned a huge amount through our pilot plant such as improving the layout and interfaces between the equipment so that it is more efficient," shares a Unilever spokesperson.
"Once we have done this, it is our ambition to start discussions with investors and others interested parties to develop a full-scale commercial plant capable of processing 12-30 tonnes of material a day.
"To support a commercial plant, we need to substantially increase the volume of flexible plastics we collect. Our ambition is to capture 1,500 tonnes in 2019 and nearly 5,000 tonnes of material in 2020. For us to achieve this we need to work with governments and industry to develop the necessary collection infrastructure. This includes introducing source separation in households so wet and dry waste can be segregated for collection – for example Community Waste Banks."
Unilever is now leveraging its waste bank network to collect multi-layered flexible sachets. For instance, it has started a flexible waste pilot in East Java to collect pouches and is creating an end-to-end solution by sending this material to its CreaSolv plant for recycling.
Wide engagement
Unilever is a co-founding signatory of the Ellen MacArthur Foundation's Global Commitment, launched at the Our Ocean Conference in Bali. The Commitment aims to create 'a new normal' for plastic packaging.
It's also a co-founding partner of investment management firm Circulate Capital's Ocean Fund, dedicated to incubating and financing infrastructure that combats ocean plastic pollution in South and South East Asia.
By engaging with policy makers Unilever advocates for a more effective and efficient waste infrastructure, including: promoting integrated waste management solutions, stretching national recycling targets, at-source separation and collection systems for recyclables, incentives to increase the use of recycled content, voluntary industry-led and funded programs and mechanisms to create a level playing field. It's also supportive of Extended Producer Responsibility (EPR) regulations which reflect the unique waste management requirements of the market.
Another challenge is around helping consumers to change their behaviour. "Our responsibility is to make sure our packaging is fully recyclable but also easy for consumers to recycle. So, we aim to make our labelling as clear as possible for consumers and we support national labelling schemes where they exist, for example the On-Pack Recycling Label scheme in the UK," says a Unilever spokesperson.
It has also signed up as founding member of the UK Plastics Pact, an ambitious multi-stakeholder initiative, led by WRAP, which aims to transform the plastic packaging system in the UK and keep plastic in the economy and out of the ocean.
By acknowledging that the issue of plastic waste is a shared responsibility that requires bold action across the value chain, Unilever's steps towards change are progressive, inclusive and hold the potential for wide reaching change- critical in the transition towards a circular economy.