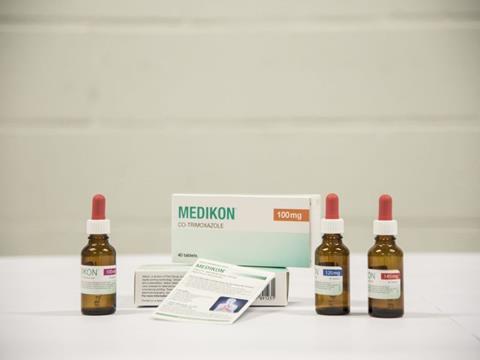 By Filip Weymans, VP Global Marketing at Xeikon
Not one label is the same, and different applications require a different digital printing technology. Whether it is for pharma, wine & spirits, durables, health & beauty, industrial chemicals or beverages, every label comes with its own aesthetic and functional requirements. In a series of blogs, Xeikon dives deeper into the characteristics of each of these labels, and advice which digital printing technology is best suited.
This article focuses on pharmaceutical labels, which are often printed on certified substrates and require special attention in terms of brand protection and anti-counterfeiting.
Pharmaceutical labels include drug and medical labels, among others. These differ from any other label type in that they are often subject to counterfeiting. To protect brands from bad practices, label converters have to invest in additional brand protection measures, such as micro text and raised images. Apart from that, pharmaceutical labels require fine details and are often printed on certified substrates.
Image quality of pharmaceutical labels
Above anything else, pharmaceutical labels need to be clearly legible for the end user, even the smallest letters and number. For the label converter this means an investment in high-resolution printing technology. For this, digital presses equipped with dry toner are your best choice, as they can achieve a print resolution of 1200 dpi and give consistent results. In other words, every label will look exactly the same - which is simply unattainable with UV inkjet, where variation is almost unavoidable. Any malfunction of the nozzle has a direct impact on print quality. Other technologies (liquid toner and UV inkjet) have a lower resolution of 800-360 dpi.
Brand protection
In order to outsmart counterfeiters label converters and brand owners have a couple of options. Build counterfeit deterrence, product authentication and brand protection technologies into the design of the label or package from the very beginning is a first possibility. Another option is to combine technologies to provide the most effective overall brand protection solution, and change the solutions on a frequent basis in order to keep ahead of the counterfeiter. Lastly, making each individual package or label unique is another anti-ounterfeiting option. In other words, it's all about being unique, being able to distinguish the genuine product from the fake one.
Certified substrates
The substrates used by the pharmaceutical industry are in many cases certified by the brand owner. Altering the composition can lead to requalification, which is highly undesirable both for the printer and the brand owner. Dry toner provides the ability to print on all standard materials without any primer or pretreatment.
Considering all points, digital dry toner technology is recommended to achieve high-quality resulst thatre hard to counterfeit and that can be used on certfied substrates. If you want to find out more on pharma label printing, or on the different technologies available in the market, make sure to check Xeikon's White Paper: 'Digital Label Printing Technologies. No one size fits all'. It's free for download from the Xeikon website, and provides in-depth analysis of digital label printing technologies: dry toner and liquid toner electrophotography, UV-curable inkjet and water-based inkjet.
Or visit Xeikon at Labelexpo Europe 2017, where the company will be sharing its expertise on pharmaceutical label printing, and much more in Hall 5. On our stand, we'll display our full portfolio of digital label printing solutions, including both dry toner and UV-inkjet, and unleash our two fast felines – Panther and Cheetah.