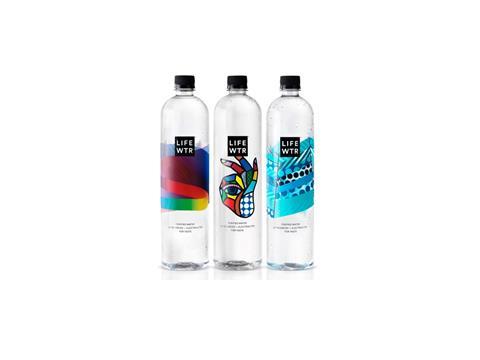 In February, PepsiCo launched a high-profile premium-bottled water brand called LIFEWTR. Described as a purified water that is pH balanced with electrolytes, LIFEWTR utilises sleek bottle designs and off-changing labels featuring emerging artists with backgrounds in mediums such as abstract art, graphic design, street art and photography.
"We believe the biggest equity of this brand is the label. LIFEWTR has a beautiful piece of art on it. We think it'll connect with consumers in a more inspirational way," said Seth Kaufman, chief marketing officer of PepsiCo North America Beverages.
Constantia Flexibles was chosen as the label supplier for LIFEWTR. They partnered with PepsiCo to create a clear pressure sensitive BOPP label that brings the art to life. Color and texture were paramount, so Constantia Flexibles used a 12-color press and ran tests to bring the texture of the art to the forefront. The art is eye-catching from the front and can also be seen through the back of the bottle.
LIFEWTR will be launching new labels in sets of three. The consumer can use the Shazam app to learn more about the individual artists. The first series featured large-scale painter Jason Woodside, mural artists Momo, and the transatlantic duo Craig & Karl. The second series focuses on female artists including Lynnie Z, whose style features bold color palettes and charismatic characters, Adrienne Gaither, a visual artist known for geometric abstraction, and Trudy Benson, an abstract artist inspired by old imaging software. The third series, in stores now, turns its focus onto fashion and celebrates how designers bring their ideas to life in this ever-changing form of art.
"Our LIFEWTR artists turn the traditional bottle label into a unique masterpiece that speaks to the creativity - and source ofcreation - and is linked to the brand's core," said Brad Jakeman, president of PepsiCo's Global Beverage Group. "The brand's purpose is to help emerging artists make it and be popularized and get into pop culture."
The label is the source of inspiration and, for millennials, an important part of their image. PepsiCo hopes that these labels will play strongly into today's social media driven culture and connect with consumers in an inspirational way.
More info: